To open your calendar, select Calendar from the Welcome page or click the Calendar bookmark, as shown in Figure 9.1.
Figure 9.1. You can access your Calendar by clicking the hotspot on the Welcome page or by clicking the icon on the Bookmark bar.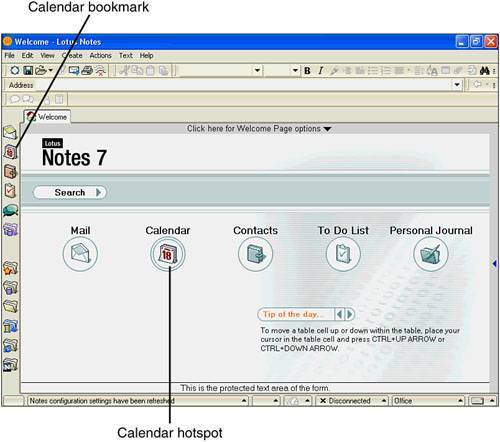 The default views for the Calendar are Day, Week, Month, and All Calendar Entries. These views are available by clicking on the tabs at the top of your Calendar (see Figure 9.2). Click the triangle next to the Day, Week, Month, or All Calendar Entries to see more choices. For example, available views for Day include one day or two days, and views for Week include a week, a work week, two weeks, and two work weeks.
Figure 9.2. The Calendar tabbed pages contain additional view options. This Calendar also contains the New Notices MiniView.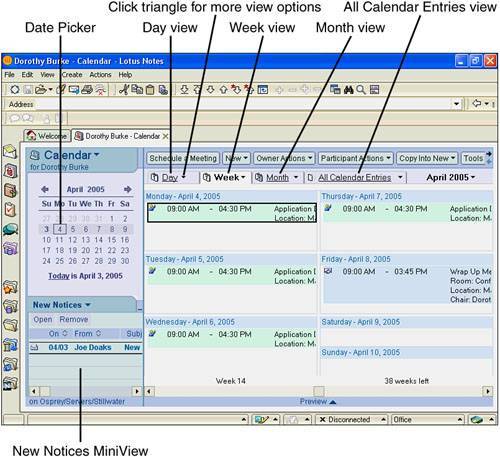 You can quickly go to a different date or change the month or year by using the Date Picker (see Figure 9.3).
Figure 9.3. Change your date quickly and easily with the Date Picker.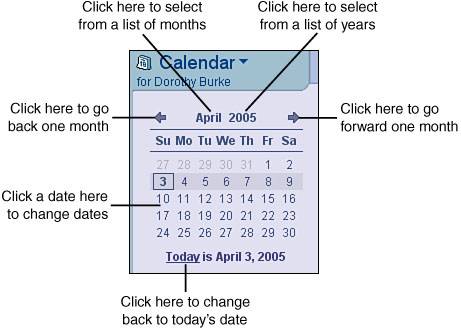 You can also view details about calendar entries by using the Preview pane as shown in Figure 9.4.
Figure 9.4. Click the Preview pane triangle to open or close the Preview pane or click and drag it to resize it.