You can customize the appearance of your Welcome page. Options for customizing the Welcome page are
Choose from a list of available styles

Customize an available style by changing its template

Create your own page

Use a bookmark as your Welcome page

Customize a Welcome page background or contents
| | |
| --- | --- |
| | No options? No templates?Your Welcome page is customizable by your Notes administrator. It's entirely possible that a corporate Welcome page has been designed for your use and you may find that options mentioned here do not apply to your Notes desktop. |
To create your own page or to customize a Welcome page style, open the customize area by clicking the arrow next to Click here for Welcome Page options on your Welcome page (see Figure 19.7).
Figure 19.7. Customize, change, edit, or create a new Welcome page by opening the Welcome Page options.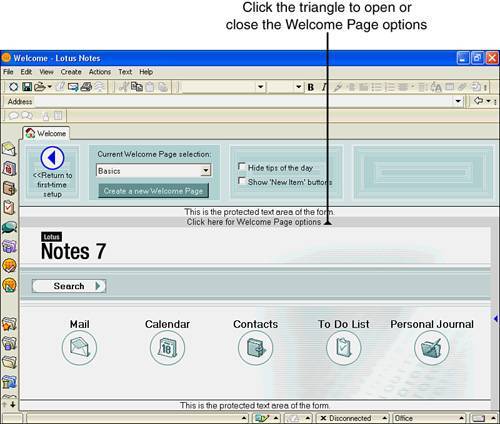 In the Current Welcome Page selection field, use the drop-down menu to select a style for your Welcome page. The default selection for this page, unless changed by your administrator, is the Basics page (shown in Figure 19.7). Basics with Calendar is similar to the Basics page, except that your calendar displays in the bottom portion of the screen. Basics Plus displays a Welcome page that includes your Inbox, Notes search options, your Calendar, and hotspots for Mail, Calendar, Address Book, and To Do list (see Figure 19.8). Choose Headlines with My Lycos, Headlines with my UK Lycos, or Headlines with Terra for a Welcome page that includes the Lycos or Terra home pages.
Figure 19.8. The Basics Plus Welcome page displays many areas of Notes, including your Calendar and Inbox.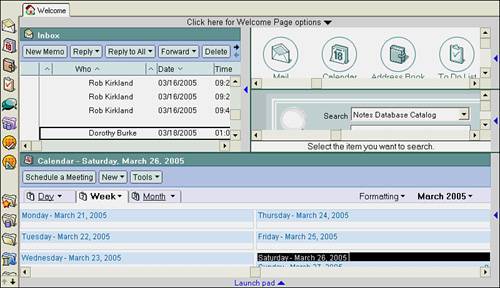 When you select the Workplace option, the Welcome screen displays three tabs on the left side of the screen (see Figure 19.9). On the Today tab you see three panes: Recent Messages, Today's Calendar, and All To Do's. On the Collaboration tab you will find your Inbox and your Personal Address Book. The Team tab displays your team website and team database and is customizable. You can even add more team tabs. Consult the Lotus Notes Help database or consult with your system administrator or corporate help desk if you want to learn more about customizing team options. The Instant Contacts (if you have instant messaging set up), Search, and Launcher panes appear on the right side of the screen. Table 19.4 provides a brief description of the panes in the Workplace.
Figure 19.9. The Workplace Welcome page is designed to help you organize and manage your work tasks and communication with co-workers. You can change the configuration of the tabs and panes by clicking Edit Workplace.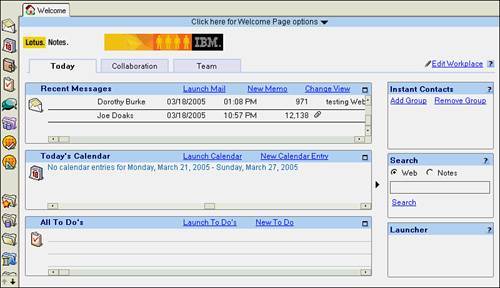 Table 19.4. Workplace Panes

| Pane | Description |
| --- | --- |
| TodayRecent Messages | Read recent mail, start new memos, change to another mail view, launch Mail (opens your Inbox) |
| TodayToday's Calendar | See today's calendar entries, create new entries, launch the full Calendar view |
| TodayAll To Do's | See all your To Do items, add new items, launch your full To Do list, display Follow Up or New Notices instead of To Do's |
| CollaborationInbox | Use your Inbox without leaving the Workplace, except for the ability to filter junk mail (you must open your full Mail Inbox to do that) |
| CollaborationBottom Pane | By default this opens with your Personal Address Book, but you can switch it to the Domino directory, your Calendar, your database subscriptions, your favorite website, or your Personal Journal using the links at the bottom of the page |
| TeamTop Pane | Set it to display a team website, such as a Lotus QuickPlace, or a team Notes database, such as a Team Room or discussion database |
| TeamBottom Pane | Set it to display a team Notes database or an existing group calendar |
| Instant Contacts | Add one or more groups from your Instant Messaging Contact List, see who is online, initiate a chat by double-clicking on a name, start instant meetings by double-clicking on a group name |
| Search | Search the Web using the Google search engine or search your Notes domain for databases |
| Launcher | Drag applications, databases, Notes documents, or web pages to this area to start them; bookmark databases to start from the Launcher |
To create a brand new Welcome page, click the Create a new Welcome Page button located under the Current Welcome Page selection field. When you create a new Welcome page (see Figure 19.10), the New Page Wizard walks you through the design of your new page. You can set up your new page in three possible ways. If you choose Frames, you work with resizable rectangular areas to which you assign content. Workplace uses components that you assign to the Today, Collaboration, and Team tabs. Personal Page offers several layouts that you fill with pictures, links, applets, and so on. You can customize the colors and background graphics with Personal Page.
Figure 19.10. Using the New Page Wizard and using layout "H" from the Personal Page layouts, we created this new customized Welcome page. To change the page contents, such as adding new pictures, open the Welcome Page options and select
Edit this page

.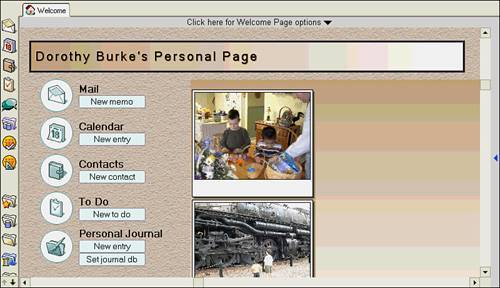 In this chapter, you learned how to customize user preferences, change your Welcome page, and customize toolbars.