You can change character formatting in any rich text field to make your documents more interesting or attractive, or to emphasize important text. As pictured in Figure 14.1, character formatting includes working with the following characteristics:
Font Apply a typeface to text in the document. For example, you can make a title stand out by applying a different typeface to it. You are limited to the fonts available in your operating system.

Size Apply a size to the text to increase or decrease the size of the printed or displayed text. Typically, larger text (say, 24-point size) commands more attention, and smaller text (10-point, for example) is reserved for details.

Style Apply special text formattingplain, bold, italic, underline, strikethrough, subscript, superscript, shadow, emboss, or extrudeto add emphasis and clarity to your document.

Color Apply color to text to further define the text in your document.
Figure 14.1. Character formatting makes your documents more attractive and easier to read if you don't overdo the number of fonts and types of formatting.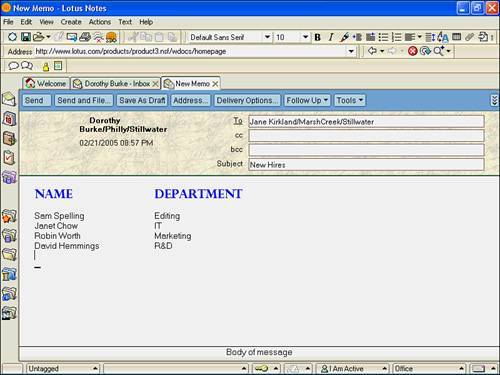 | | |
| --- | --- |
| | Try these keyboard hotkeys:Ctrl+B for Bold, Ctrl+I for Italic, Ctrl+U for Underlining, F2 to increase the font size, Shift+F2 to decrease the font size. More hotkeys are listed in the Text pull-down menu. |
Select your text before you apply formatting. There are several methods of applying text formatting after you have selected it:
Status bar If you customized your Status bar to show font and font size, you click directly on the font name and font size and select your new choices from the pop-up lists.

Menu Press Alt+T on your keyboard to open the Text menu or click on Text. Select your character formatting from the pull-down menu.

Text Properties box Press Ctrl+K or select Text, Text Properties from the menu bar. Font properties are changed in the first tab as seen in Figure 14.2.

Figure 14.2. When you are done formatting your text, close the Properties Box by clicking on the X in the upper-right corner.




Tools Bold and Italic Icons and Font and Font Size drop-downs are available on the Text Formatting toolbar by default.

Right-click Choose the most common types of text formatting from the shortcut menu.