115. Auto-Generate Scene Markers
BEFORE YOU BEGIN
111 About Burning to DVDs
114 Set DVD Chapter Markers
117 Customize a DVD Menu Screen Template
SEE ALSO
116 Customize an Image As a Chapter Marker
119 Create a Motion Menu
122 Preview and Test Drive a DVD Movie
123 Burn Multiple Copies of a DVD
124 About Troubleshooting DVD Output
115. Auto-Generate Scene Markers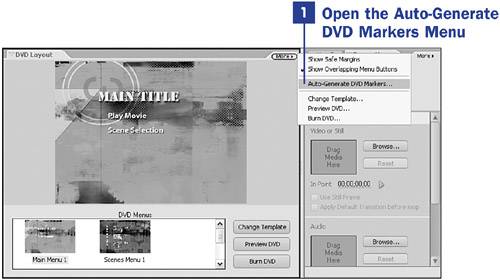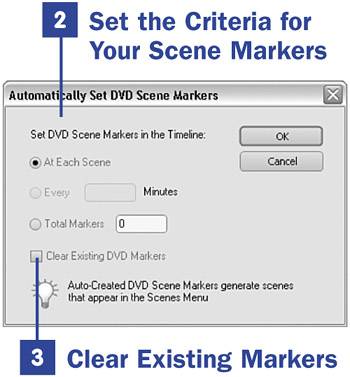 Scene markers are DVD chapter markers used to create menu links to give your viewer quick, easy access to scenes in your video. You can set up your own scene markers as explained in 114 Set DVD Chapter Markers, or you can have Premiere Elements set them up for you, according to your criteria, as explained in this task.
KEY TERM
Scene marker A type of DVD chapter marker that links from the scenes menu to a designated point in the video.
1.

Open the Auto-Generate DVD Markers Menu

Open the movie project for which you want to create scene markers. Make sure that you can see the project in the Timeline.

If you aren't already in the DVD workspace, click the DVD button in the upper-left corner of any workspace.

Click the More menu in the DVD Layout panel and select Auto-Generate DVD Markers. The Automatically Set DVD Scene Markers dialog box opens.



2.

Set the Criteria for Your Scene Markers

Enable the At Each Scene option if you want to place a DVD scene marker at the beginning of each clip on your Timeline.

Enable the Minutes option if you want to place a scene marker at the time intervals you designate. In the text box that follows the option, type the time interval in mm:ss format at which you want to place markers.

The Total Markers option places the number of scene markers you indicate at evenly spaced intervals throughout your movie project.



3.

Clear Existing Markers

Enable the Clear Existing DVD Markers to clear all previously set scene markers as your new markers are generated.

When you've made your selections, click OK to close the Automatically Set DVD Scene Markers dialog box and generate the markers you've defined.

As with any DVD chapter marker, after the automatically-generated DVD scene markers appear on the Timeline, they can be positioned or customized as needed (see 116 Customize an Image As a Chapter Marker). Automatically generated DVD scene markers appear in the scenes menu with rather generic names, such as Scene 1, Scene 2, and so on. You can rename them by double-clicking the text in the menu template itself (see 117 Customize a DVD Menu Screen Template) or by double-clicking the DVD chapter marker on the Timeline.