Shanghai Bell Co., Ltd. (herein referred to as Sbell), is a joint venture between China, the Belgian Fund for Development, and Alcatel. Founded in 1984, Sbell has become one of the pillar enterprises in China's modern telecommunication and information industry. During the past few years, Sbell was ranked among China's top ten foreign investment enterprises and China's top 100 enterprises in the electronics and information industry. In 2001, Sbell employed more than 4,800 people with an average age of 29, among which 78 percent of them have university education, including 900 with postgraduate degrees. The main products of Sbell include switching, transmission, terminal, mobile and Internet systems. Figure 1 shows the statistics on the market share of Sbell in China in the Year 2000. In 2000, the sales revenue of Shanghai Bell reached 10.8 billion RMB (1.3 billion USD), which is an increase of 17 percent over the previous year. Figure 2 shows the increasing trend in after-tax sales revenue at the headquarters from 1995 to 2000. By the end of 2000, Shanghai Bell has total assets of 17 billion RMB (2 billion USD) and in May 2001 was recognized by Fortune as one of the best foreign investment enterprises in China.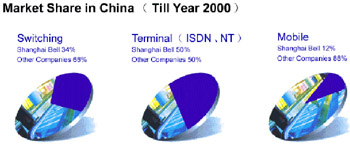 Source: Shanghai Bell Corporation
Figure 1:

Market Share in China (in 2000)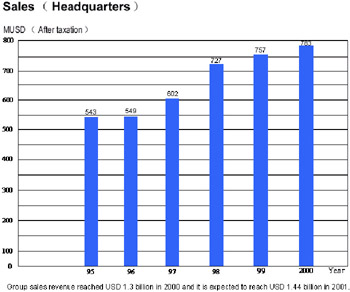 MUSD: Millions of USD
Source: Shanghai Bell Corporation
Figure 2:

Sales at Headquarters (from 1995 to 2000)
Urged by intense competition and the fast-changing, dynamic environment, Sbell carried out a significant organizational innovation at the end of 2000. The company initiated a series of changes to reengineer its previous hierarchical and highly centralized management structure to a flatter and more flexible one. Four major measures were taken to establish a new matrix organizational structure, which includes six business divisions and three platforms within the overall company (see Figure 3).

Figure 3: Organizational Structure of Sbell
First, Sbell established six new independent business divisions— switching networks, mobile telecommunication networks, data communication networks, transmission networks, network applications, and multi-media terminals—to cover the key business core. Each division was given the authority to determine its own products and materials (within the broad company context) and has some degree of financial independence. The sovereignty and flexibility of these business divisions led to speedier response to the changing environment and a closer relationship with customers.
Second, a research and development (R & D) platform was set up to improve the capability for technological innovations. In order to manage the development of products efficiently, the R & D platform was organized as a three-layer structure. The first level is located at the top management level, titled as "Chief Engineering Office," which is responsible for corporate technical and product strategy, technological innovations, project management, technical/product standardization management, intelligence service, and corporate Intranet, etc. The second level is the corporate R & D department, which focuses on intermediate-to long-term R & D, and technologies that were shared among different business divisions. The third level is the Business Division (BD) R & D, which is located within each business division and is regarded as the front-line that interacts directly with customers on a regular basis. In order to enhance technological innovations, Sbell planned to increase the number and proportion of employees in the R & D department (from 34 percent in 2001 to 40 percent in 2005) as well as its R & D investment (from 9 percent in 2001 to 15 percent in 2005). Sbell believes that enhancements of research capability using advanced Information Technology would greatly benefit its long-term development.
Third, Sbell set up eight marketing, sales and service regions in multiple distributed sites, including 32 branches in China and about 20 overseas offices, to establish a strong sales and service network across China and abroad. Instead of focusing only on sales revenue, the top managers of each region have to pay more attention to marketing and service. Both cooperation (gaining cross-regional customers and supporting nation-wide promotions) and competition (pressure to minimize cost and meet budget) co-existed among these regions.
Fourth, the previously isolated manufacturing sub-divisions (such as production, planning and procurement) were re-arranged to establish a flexible and unified manufacturing platform. Both the manufacturing platform and the business divisions have the authority to determine their providers or buyers based on their unit's cost and revenue (ROI). For instance, if the business divisions find that the manufacturing platform cannot satisfy their requirements (cost, time or technology), they can choose manufacturers from outside the company. The same is true for the manufacturing platform. When the price offered by the business divisions is too low or a technological requirement is too high, the manufacturing platform can receive orders from outside the company. Competition and cooperation greatly contributed to business performance. In this way, units that have an independent accounting privilege would strive to reduce cost and increase benefits in order to avoid elimination.
To summarize, a new matrix organizational structure (as shown in Figure 3) was established. The new organizational structure was supported by six business divisions (network applications, switching networks, mobile networks, etc.) and three platforms—(1) manufacturing, (2) research and development, (3) sales, marketing and service. The six business divisions share the resources provided by the three platforms. For example, a project team can recruit technicians from BD, technology instructors from R&D, and sellers from marketing on a temporary basis to deal with a specific case. In addition, functional departments, including human resource and finance, supported the daily operations of the company.
The integration and advancement of both research and development platform and the sales, marketing and service platform contributed to the evolving business strategy of Sbell, which is a combination of "technical-oriented" and "market-oriented" strategy. A decentralized architecture enhanced sovereignty of units and increased flexibility. A flattened structure reduced management layers and resulted in quicker response to changing customer preferences and a shorter design-to-market cycle.
IT Structure
Sbell implemented the SAP R/3 Enterprise Resource Planning (ERP) system in 1998 as its core transaction processing system. The ERP system comprises four modules—Materials Management (MM), Production Planning (PP), Financial Accounting (FI), and Sales and Distribution (SD). According to the ERP project leader, Mr. Yunjun Xiao, "The FI module has worked well during the last few years. However, data-sharing problems existed between and within the MM and PP modules. Business processes for sales and marketing were only partially supported by the SD module." Hence, further integration of MM and PP modules as well as extensions of SD functionality were needed. Besides the ERP system, other applications were also developed, including the Human Resource (HR) system that was outsourced and a call center that was developed in-house.
Sbell invested several million USD to develop its computer platform and network systems in 1996 and continued to extend and improve its networks and technical infrastruc-ture. To provide a solid high-speed network, Digital Data Network was used to connect multiple sites within Shanghai, and ISDN, ISP and ADSL were installed to link sales distributions outside Shanghai with the headquarters. Despite using advanced equipment and technology, the current networks could not satisfy the increasing needs of the distributed and continually expanding environment. Moreover, distinct operating systems (Windows 95/98/2000, Unix, Windows NT) and databases (Oracle, Sybase) existed simultaneously in the company, which resulted in data isolation and inconsistency.
The company did not have an integrated IT/IS department that was responsible for developing IT strategy, managing IT projects, and supporting and maintaining the IT infrastructure. The current IT workforce within Sbell included (Figure 4): (1) an IT department (with ten people) that focused on providing technical support for the IT infrastructure (network, desktop, data center and maintenance) of the whole company; (2) 20 engineers in the switching business division that took charge of maintaining IBM mainframe; (3) technicians in each division who were responsible for installation and maintenance of local networks; and (4) teams established on an ad hoc basis for specific IT application projects such as the ERP implementation. There was no position similar to that of the CIO, and the existing IT department provided solely technology support rather than drove IT strategy by aligning it with business goals.

Source: Shanghai Bell Corporation
Figure 4:

Existing IT Organization in Sbell (April 2000)