In order to increase the efficiency and reduce the workload of his employees, Horton instituted a tiered model consisting of four levels. The original tiered support level does not start from a planned strategy. Instead, it comes about as a result of the specialization that some of the employees were achieving in the handling of calls. Eventually, Horton decided to give these employees particular responsibilities. It originally had only two levels: desktop support and network engineering. Over time, the model evolved to include the four levels that are now in place. The biggest challenge this created for him and his staff was increasing the number of incident resolutions at Level 0 in order to reduce the workload of employees at Levels 1, 2, and 3. Horton feels that he does not have accurate numbers for percentages by tier. He needs to know this breakdown in order to justify improvements in certain areas. Figure 3 shows the tiers.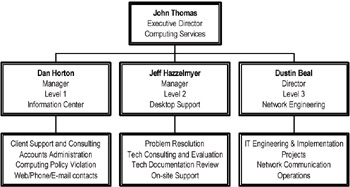 Figure 3: Tier Model Support for Glenview Hospital
Level 0
Level 0 helps users solve problems themselves via the Internet, intranet, or printed material. There are printed User Guides that answer some basic computer set-up questions and the search engine on the internal site that queries the help desk knowledge base. Ideally, Horton stated that he "would like to get 15% [of support directed] to level zero." This would reduce the number of incidents requiring staff time.
Unfortunately for the Information Center, most hospital employees are not particularly knowledgeable about computers and will rarely take the initiative to learn by themselves. This is further exacerbated by the perception of many that computers are not their responsibility but rather the care of their patients. They, therefore, delegate all types of computer problems to the technical support of their medical unit or to the staff at the Information Center.
Level 1
Level 1 is the Information Center staff, and is the point of first contact by customers whether they come to the help desk personally, use e-mail, or phone. Among the tiers, Level 1 employees have the closest relationship with users because they are the point of initial contact. The Level 1 staff must also communicate thoroughly with customers to understand their needs and solve the problems quickly and efficiently to provide good customer service. Horton believes that "Level 1 should be able to resolve 55% of the incidents." If Level 1 staff cannot resolve the issue, they assign the incident to the next level.
Level 2
Another department handles Level 2 incidents. Level 2 employees focus on technical knowledge. They have to spend more time on each incident than Level 1 and have more on-site advanced customer support responsibility. Level 2 employees resolve a variety of incidents including hardware, software, and network problems. Ideally, Horton would like Level 2 to handle 27% of the incidents. All too often, Level 2 employees refer incidents they cannot resolve to Level 3.
Level 3
This is the Networking Support level. Employees in this tier are internal experts with a strategic planning focus. They have limited user contact, and mainly deal with network and server related issues. Horton wants Level 3 to handle 3% of incidents, "or even less." John, a new employee at Level 3, received a Level 0 User Guide during his orientation. Although he has worked for the hospital in other capacities for several years, he stated, "I have never seen one of these," even though the guides had been distributed to all new staff in the last two years, and are available at the Information Center. Upon receiving the User Guide, John was able to quickly solve an incident that the Level 1 and 2 employees had been working on for two days.
Table 5 presents the targeted and actual percentages associated with each of the levels.
Table 5:

Percentage of Requests Handled by each Tier

| Levels | Target | Actual |
| --- | --- | --- |
| Level 0 | 15 % | 10 % |
| Level 1 | 55 % | 45 % |
| Level 2 | 27 % | 30 % |
| Level 3 | 3 % | 15 % |
Current and Future Projects
In an effort to reduce turnover and increase productivity, the Information Center intends to institute four projects:
an updated phone system with extensive reporting capabilities,

an innovative call tracking/knowledge management help desk package,

an enterprise web based e-mail system, and

an enterprise account management system.
The standardization of e-mail and accounting should reduce the number of requests.
The Phone System
The problems with the universal call distributing system are causing the Information Center to look at two alternatives for upgrading this equipment: (1) a new automatic call distribution system (ACD) and (2) an Internet Protocol (IP) telephony system. Both phone systems have enhanced features that track and route calls, but they also generate reports and allow greater communication between the call tracking software and the Internet. The ACD system is ideal for organizations with exceptionally high call volumes, and works by queuing incoming calls and routing them to technicians when they become available. The IP based system has the greatest degree of functionality because it incorporates both voice mail and e-mail with auto attendant, virtual extension, automatic call distribution, and single key voice mail response capabilities. Price is the most important factor considered in the choice of phone systems. While the IP system is more expensive than the ACD, it has many more functions associated with the computer telephony integration. At this point, no decision has been made.
Updated Knowledge Base
The existing help desk package, CallOnUs, installed in 1995 and upgraded in 1997, met with initial resistance among users until a management directive required all help desk technicians to use CallOnUs. While the CallOnUs system proved satisfactory in its early stage, as the number of knowledge documents increased and the service spectrum of the IC increased, the effectiveness of CallOnUs decreased. There are three main problems with the system: knowledge documents have no set search terminology or standards; it has an ineffective search engine; and it cannot cross connect to the IC Web page to allow easy access by Internet users. Another problem faced by the IC is that the vendor, after a series of mergers and acquisitions, ceased development of the product and announced that it would no longer support it at the end of 1997. Therefore, in 1999, the Information Center began to search for a new product to replace CallOnUs. Initial research indicates that the upfront licensing and installation for new systems from other vendors is likely to cost $250,000.
The increasing number of customers with varying technological needs has forced Horton to make radical changes in both the technology and structure of the Glenview Hospital Information Center. The hospital, the users, and the patients all depend on the ability of the IC to effectively deal with technology problems that arise in a timely manner. There is a delicate balance between organizational and system change. Managers must consider stakeholder acceptance in these decisions.
Horton has realized that to better serve his customers and decrease the pressure on his staff two things need to be changed. First, certain departmental procedures must be changed or augmented so that either users can solve their own problems or appropriate levels handle the calls. Second, technological improvements need to be made at the IC that will result in better customer service. Horton also needs adequate information to allow him to understand where the problems are within his own organization.
While there has not been a lot or research done with respect to the selection of the new system, it is clear that there are now more sophisticated tools to handle customer requests. One approach, for example, is the assignment problem. This is now being updated to Fault Systems, which provide a more optimal assignment of technicians to service faults (Lazarov & Shoval, 2002).
The IC is therefore coming to a point where major decisions need to be considered. Horton is running the risk of losing more staff, and the hospital is being negatively affected by systems that are not supported appropriately. The future of the Information Center and users at Glenview Hospital will thus be determined by decisions taken at this time.