Podcasts have become so popular that you can find a good number of software packages designed especially for developing and uploading them. In many cases you don't have to touch the RSS. Here's a starter list of dedicated podcast software:
BlogMatrix Sparks (www.blogmatrix.com) lets you record, mix, share, publish, store, and listen to recordings. It also makes it easy to upload podcasts to the Blogmatrix.com site. Hosting a podcasting starts at about $5 per month.

ePodcast Creator (www.industrialaudiosoftware.com/products) lets you record, edit, create your RSS feed, and upload your podcast. The current list price is $89.95.

ePodcast Producer (www.industrialaudiosoftware.com/products) lets you record, edit, and create RSS tags, then upload your podcast from one program. The current list price is $249.95.

Podomatic (www.podomatic.com) lets you create, mix, store, search, and download podcasts. There's even an on-site recorder and mixer that you can use without downloading. And it's all free.

PodProducer (www.podproducer.net/en/) is free software that lets you produce and record podcasts. It requires Windows XP.
BlogMatrix Sparks is a superb software package not just for recording podcasts, as we saw earlier in this chapter, but also for the dedicated podcaster (hosting packages for your podcasts begin at $5/month as of this writing). After you've made a number of recordings in BlogMatrix Sparks, it's easy to upload them to Blogmatrix.com.
Figure 7.13. Here are several recordings made in BlogMatrix Sparks.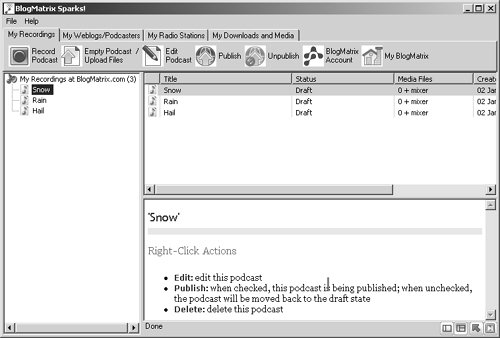 To configure a podcast, select it in BlogMatrix Sparks and click the Edit Podcast button in the toolbar to open the Podcast Posting dialog, where you can add HTML to your podcast (Figure 7.14).
Figure 7.14. Configure your recording in the Edit Podcast dialog in BlogMatrix Sparks.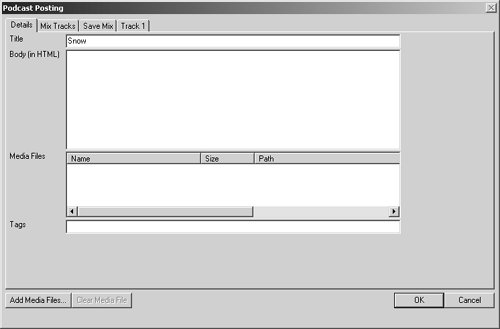 To publish your podcast to Blogmatrix.com, click the Publish button or right-click the recording and select the Publish item. The first time you do so, BlogMatrix Sparks signs you up with Blogmatrix.com and you're on your way.