Exploring the User Interface
The user interface is made up of a variety of elements, all of which have different roles when it comes to helping you create your masterpiece.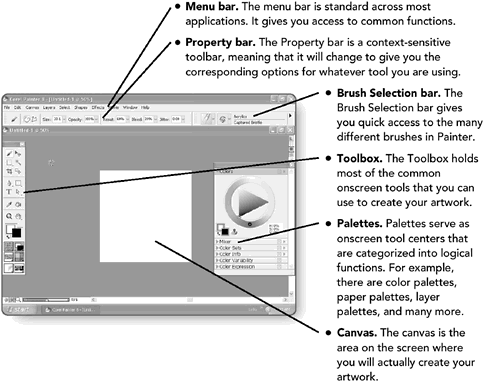 The Menu Bar
The menu bar provides you with access to most of the controls within the program. Each word on the menu bar represents a menu that contains a list of commands.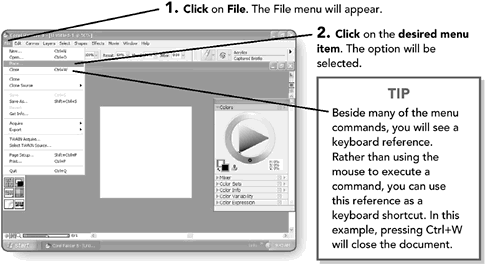 The Property Bar
One of the most valuable tools in Painter is the Property bar. The Property bar is context-sensitive, meaning that it constantly changes to help you with the tool you are currently using. For example, if you have selected the Text tool in the Toolbox, the Property bar will change to offer you the corresponding text options, such as font size, font color , and so on.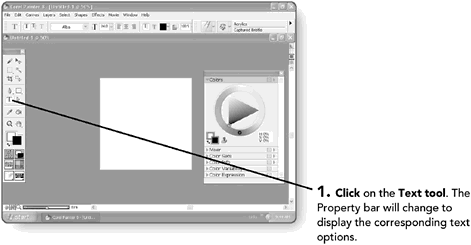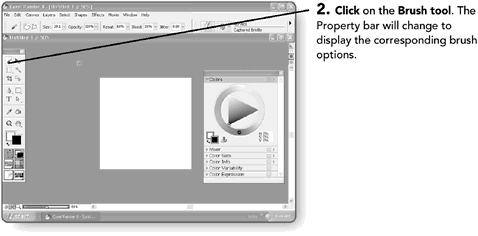 The Brush Selection Bar
What is an artist without his brushes? There is no doubt that you will spend most of your time in Corel Painter using one of the hundreds of different brushes available. Because there are so many different brushes, Corel has provided you with a tool that will give you easy access to all of themthe Brush Selection bar. With the click of a button, you can quickly access different categories and types of brushes.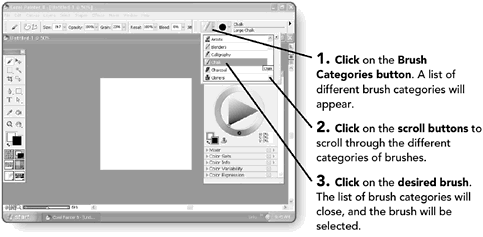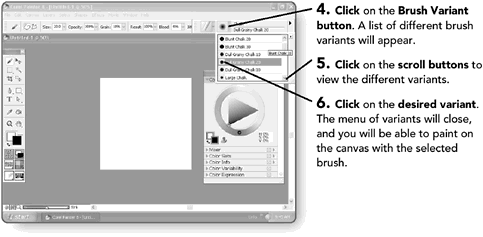 The Toolbox
A Paintbucket, a Magnifier, an Eyedropper, and a Pen aren't tools you would typically think of storing in a Toolbox. But Painter is no ordinary program, so it shouldn't seem odd that it doesn't have a run-of-the-mill Toolbox. The tools contained in the Toolbox all help you create your project. From adding text to your image to choosing pattern styles, the Toolbox is a convenient storage area for the tools you often use. Selecting tools from the Toolbox is simply a matter of clicking on them.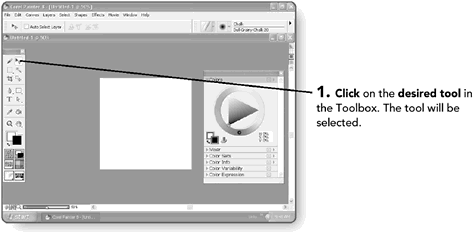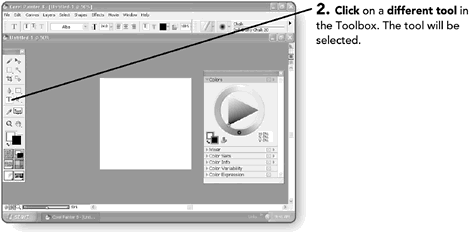 NOTE
If you position your mouse pointer over a button in the Toolbox for several seconds, a Tool Tip will appear, letting you know the name of that tool.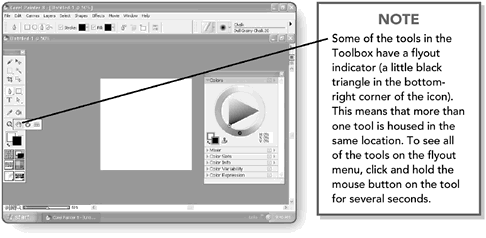 Palettes
Palettes in Corel Painter serve as onscreen tool centers that allow you to quickly gain access to tools for specific functions. Because there are thousands of different controls, variants, and options in Corel Painter, these functions needed to be organized. By categorizing palettes into logical groups, Painter allows you to gain fast access to the controls you need to complete your project.
Using Palettes
In an effort to save valuable screen space, most palettes contain several expandable and retractable menus . You can also move, resize, and customize palettes.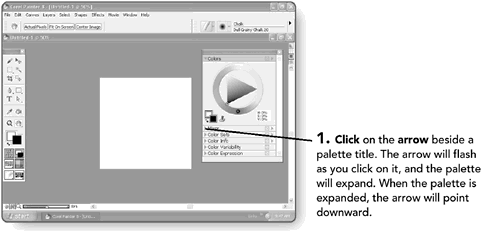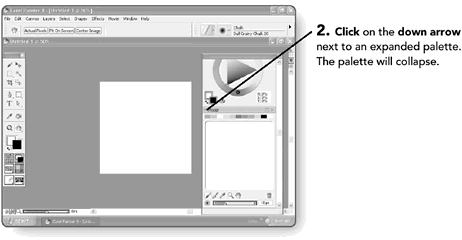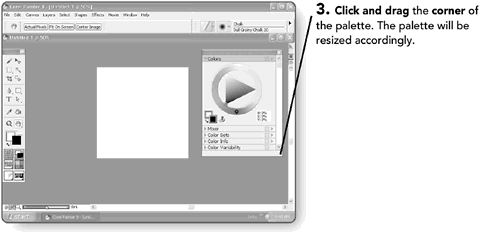 Opening Palettes
When you first open Painter, several default palettes are already open . Painter gives you a multitude of palettes to use in the creation of your artwork. The menu bar gives you quick access to your palettes and informs you which ones are already open and which are available to be opened.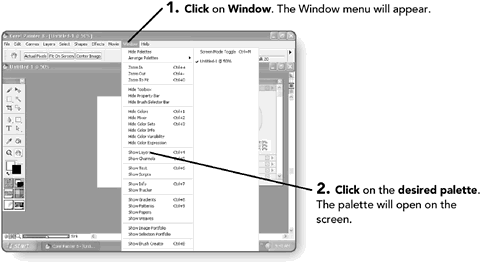 NOTE
Palettes that have the word "Show" beside them are available to be opened; those with the word "Hide" beside them are already open.
Closing Palettes
When you are finished using a palette, you can remove it from your screen to free up some valuable real estate. You can close a palette by using the menu bar or closing the palette directly.