SMS has a clear place in the deployment of software updates to enable security updates and patching for client and server systems. One of the questions that is often asked by systems management administrators is how MOM fits into the security management solution. The answer really depends on your view of security management.
While MOM has extensive support for managing events and system alerts that might have a relationship to security issues, MOM does not directly enable an extensive set of scenarios for securing your IT infrastructure. However, that doesn't mean that MOM can't be part of making sure that your IT infrastructure stays secure. For other security products that are essential in your environment, such as ISA Server 2004 or Sybari Anti-Gen for spam prevention in Exchange, SharePoint, and your instant messaging platform, MOM can provide a management solution to ensure that they're healthy.
In addition to helping you manage your critical security servers, MOM can enable you to create rules based on security events, as shown in Figure 12-4. This enables you to filter certain events and consolidate certain events, helping you to focus on the more important and relevant events in your environment.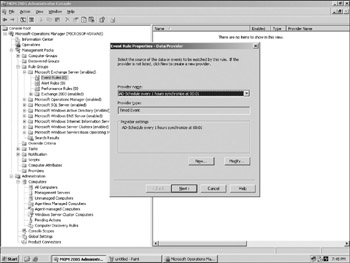 Figure 12-4
You can also create alerts for events that can help to provide a more proactive posture for responding to potential security-related issues. And when you'd like to extend MOM's security capabilities beyond those that you can manage and configure yourself, there are third-party solutions from other systems management software companies that enable better integration between MOM and SMS for security management.