The Organizer work area is divided into two main components: the Photo Browser and Organizer Bin. The Photo Browser, along with its timeline, is used to find and view thumbnail representations of your photos. The Organizer Bin contains the Tags and Collection Panes that you'll use to group and organize your image files (Figure 13.1).
Figure 13.1. The Photoshop Elements Organizer workspace.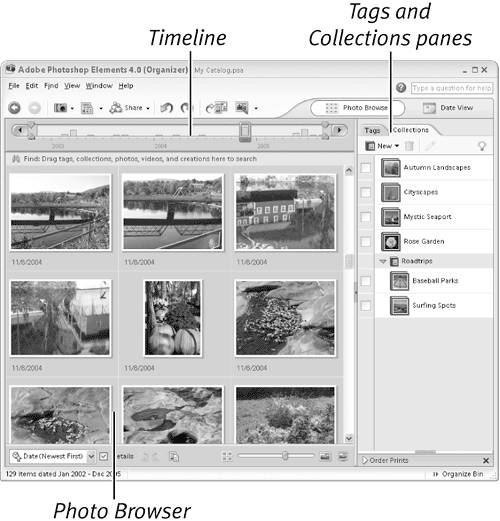 The Photo Browser and timeline
At the core of the Photoshop Elements Organizer is the Photo Browser. Every digital photo or scan downloaded into Photoshop Elements is automatically added to the Photo Browser. Clear, resizable thumbnails in the Photo Browser window make it easy to scan through even a large number of images. (For information on importing images, see "Importing Images from Cameras and Scanners," in Chapter 2, "Creating and Managing Images.")
The timeline located just above the Photo Browser provides a way to quickly navigate from one set of images to another. For instance, when a Date viewing option is selected in the Browser window, the timeline uses date and time information embedded in each image to construct bars (month markers) to represent sets of photos taken within specific months and years. When a month marker is selected in the timeline, that month's photos are displayed at the top of the Photo Browser (Figure 13.2).
Figure 13.2. Click on a month marker in the Organizer timeline to view that month's photos on the Photo Browser.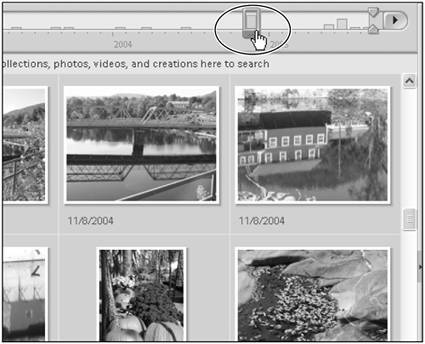 The shortcuts bar, menus, and panes
The other components in the Organizer look and operate in a similar fashion to their counterparts in the Photoshop Elements Edit workspace.
A menu bar across the top of the window provides a source for commands and functions, whereas the shortcuts bar contains buttons for importing and printing, as well as for changing views within the Organizer, and for opening the Creations and main Edit workspaces.

The Organizer Bin on the right side of the window holds the Tags and Collections panes. Working with the thumbnail images in the Photo Browser, you'll use these to identify, sort, and organize your photos (Figure 13.3).

Figure 13.3. The Organizer Bin contains the Tags and Collections panes.