Besides the usual options you'd expect to have in a paint palette (like a Color Picker), you can also choose the duration of your stroke and which channel you want to paint on (Alpha, RGB, or RGB+Alpha Channels).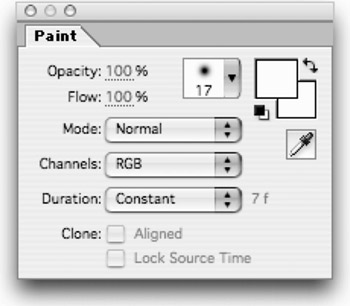 If you are unsure what effect you are looking for, or got excited and started painting before you considered the options (easy to do), you can always modify these options after you've painted . Most of these options can be changed under Stroke Options in the timeline by a quick click.
You can animate the duration by keyframing the Start and End values of a stroke. Notice that if you select Write-On for a stroke that AE places keyframes on the End value as you paint. You can always speed up or slow down a Write-On effect by dragging these keyframes further apart or closer together.