Audio provides more than 70 percent of the experience when watching a video or movie. If the picture is less than perfect but the audio is clear, people will watch. Conversely, if the audio is poor and the picture is great, they'll get weary of fighting to hear and give up.
After Effects is NOT an audio powerhouse, but it does have some powerful tools to tie your effects into your audio mix. Read on to learn how to get the best sound out of (and into) After Effects.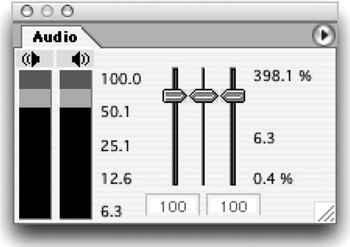 Tap Out the Beat
This is our favorite way to sync keyframes to an audio track. If you can tap your finger to the music, you can achieve better keyframing .
Add a Solid Layer to hold your keyframes by pressing Cmd+Y (Ctrl+Y). Leave this layer selected.

Set your preview area for the segment of audio you'd like to keyframe.

Be certain the Audio button is highlighted in the Time Controls Window.

Start the RAM preview.

To add a Layer Marker, press the Multiply symbol (*) on the numeric keypad. Continue to tape out each audio event you'd like to sync to.

When the Preview is finished, all of the Layer Markers will appear.

To move between markers, use the J and K keys to move left or right respectively.