The Reference Toolkit comes as one zip file for Linux, Palm®, Windows, and Pocket PC and another zip file for EPOCTM/Symbian OS. These files contain the complete source and object code for the different platforms. After unpacking the files, a developer should delete the directories that don't apply to his platform. The complete directory tree is shown in Figure 10-4.
Figure 10-4. Reference Implementation directory tree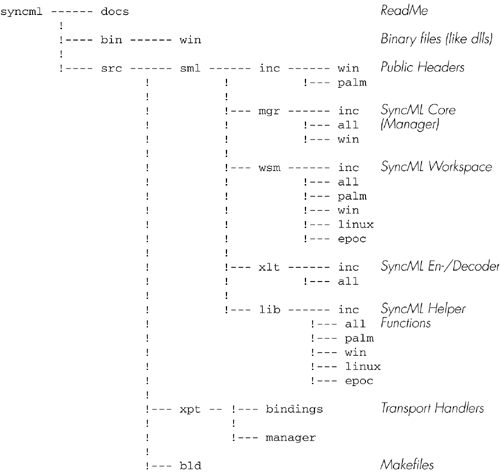 Makefiles for the GNU Mingw 32 compiler for Windows and Linux can be found under syncml/src/bld. The Palm OS® version was compiled and tested with the Metrowerks® compiler. The best thing here is to import the code (only the files relevant for the Palm environment, not the Windows or Linux versions of the files) into the Metrowerks IDE.