Overview
Effective management of supply chain activities in manufacturing and distribution requires an integrated information system. This integrated information system is commonly referred to as an Enterprise Resource Planning (ERP) system. The term ERP system sometimes gets misconstrued as pertaining to just large companies or just a subset of applications. It is used here in its broadest sense "pertaining to companies large and small and to all integrated applications to run a manufacturing or distribution company.
Most small to midsize businesses opt for a software package as the foundation for an integrated ERP system. The package s standardized functionality provides the basic framework for supporting variations in business processes, with unique requirements covered by varying degrees of customization. Learning the standardized functionality represents a critical activity for system selection, implementation, and ongoing usage by individuals within these firms.
An individual s learning process usually builds on training courseware and hands-on experience. In many cases, these provide a detailed viewpoint expressed in software-specific terminology and a screen-by-screen walk-through approach. It makes an overall understanding difficult and requires time-consuming efforts to piece the details together into a mental framework. Most people can accelerate their learning process by starting with a mental framework of how the system fits together to run a business, expressed in generally accepted terminology. The mental framework "in combination with hands-on experience and training courseware " reduces the learning curve, and an overall understanding leads to more effective system usage.
This book addresses the need for an overall understanding of one ERP system: the Navision Edition from Microsoft Business Solutions, more simply referred to as Microsoft Navision. It focuses on using Navision for managing supply chain activities in small to midsize manufacturing and distribution environments. Other integrated applications within Navision, such as accounting, human resources, customer relationship management, and service management (for repairing products), fall outside the scope of this book. The book s format enables readers to focus on information of particular interest:
[1] Navision is a registered trademark of Microsoft Corporation.
Focus on just distribution or manufacturing environments, or both

Focus on single-site or multisite operations, or both

Focus on key business processes to run a company

Focus on standardized functionality, with case studies on customizations

Focus on industry-specific case studies relevant to the reader

Each chapter s Executive Summary provides a quick-read approach
The targeted reader includes those individuals implementing or considering Navision as their ERP system as well as those providing sales and implementation services. Firms involved with a system selection process may be considering Navision as a candidate package, and this book can help reduce selection risks, evaluate system fit and needed customizations, and provide a vision of an integrated system. For businesses involved in implementing and using Navision, the book can help accelerate the learning process, reduce implementation time and costs, reduce user resistance to change, and suggest changes to improve system usage. For firms providing Navision- related sales and services, this book can accelerate the employee learning process for providing knowledgeable customer service in sales, support, and professional assistance. Figure 1.1 summarizes these reasons for reading the book.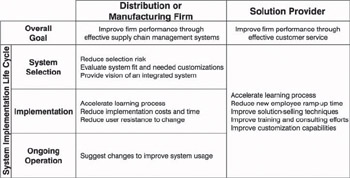 Figure 1.1:

Reasons for Reading the Book