---
Description
The template AutoRegisterSuite (Figure C-2) is not intended for direct usage. It is statically instantiated by the macros CPPUNIT_TEST_SUITE_REGISTRATION() and CPPUNIT_TEST_SUITE_NAMED_REGISTRATION( ) . It registers a test of the type TestCaseType . For more details on test registration, see the description of TestFactoryRegistry , later in this appendix.
AutoRegisterSuite belongs to the namespace CppUnit . It is declared and implemented in extensions/AutoRegisterSuite.h .
Figure C-2. The template AutoRegisterSuite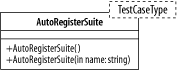 Declaration
 template<typename TestCaseType>    class AutoRegisterSuite<TestCaseType> 
Constructors/Destructors



AutoRegisterSuite( )

Registers the test suite in the global registry.




AutoRegisterSuite(const string& name )

Registers the test suite in the registry specified by name .
Public Methods
None.
Protected/Private Methods
None.
Attributes
None.