Chapter 19. Using the Project Web Access Admin Menu Tab
IN THIS CHAPTER
Admin Overview

Using the Manage Users and Groups Function

Using the Manage Security Function

Using the Manage Views Page

Using the Server Configuration Function

Using the Manage Windows SharePoint Services (WSS) Function

Using the Manage Enterprise Features Function

Using the Customize Project Web Access Function

Using the Clean Up the Project Server Database Function

The About Microsoft Office Project Server 2003 Page

Best Practices
The Admin tab in Project Web Access (PWA) is used by the administrator or Project Management Office (PMO) lead to set overall PWA screen settings, configurations, and security settings, and to perform general database maintenance such as deleting projects. To complete full configuration for the system, the PMO also sets up Enterprise Outline Codes in Project Professional as well. This chapter describes each function that displays in the side pane under the Admin tab. Other chapters in this book may include full instructions for using a particular feature, whereas this chapter provides overview information. When you select the Admin tab you see a screen listing all the Admin functions, as shown in Figure 19.1.
Figure 19.1. The Admin tab functions.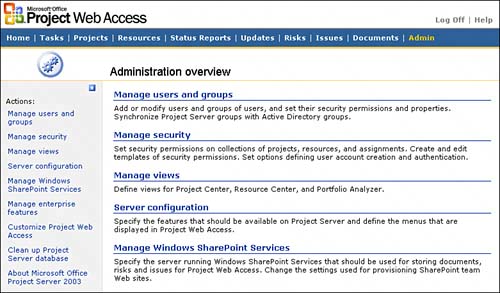 CAUTION
Most changes (for instance, permissions to view functions or see data, timesheets, and updates to PWA views) you make using the Admin tab are effective immediately after you save the change. Make sure that you take that into consideration prior to making a change. Also, several functions that change the PWA page (such as adding ToolTips) do not take effect until the administrator logs off and logs on again.