Although Microsoft introduced Movie Maker in Windows 98, it wasn't until the second version, Movie Maker 2, that Movie Maker began to be noticed as an excellent video editing tool. Although nobody argues that Movie Maker lacks features found in other more expensive editing packages, Movie Maker certainly contains all the basic features that you'll need to get started.
TIP
| | |
| --- | --- |
| | If you plan to perform fairly advanced video editing on your computer, you should master Movie Maker before moving to a more comprehensive package, such as Adobe's Premiere Pro, which costs a few hundred dollars ( see 110 About Editing Professionally with Adobe Premiere Pro ). Movie Maker is a great launching pad that introduces you to video-editing skills. Although Movie Maker works with virtually any video card, you might find that upgrading to a more powerful software package also requires that you upgrade your video card, too. |
This book is not about Movie Maker, but most of its chapters are devoted to teaching Movie Maker tasks . After you master Movie Maker "and you will master Movie Maker if you tackle the tasks throughout this book "you will understand the concept of almost all other video-editing programs on the market. Those programs, which are far more costly than Movie Maker (Movie Maker is free), all use a screen layout similar to Movie Maker's. The final chapter, "Taking Digital Editing to the Next Step," explores more advanced video-editing software programs you might want to move to after you master Movie Maker.
Getting Movie Maker 2
If you've owned your computer for a while and have been upgrading your computer's operating system as Windows advances, you probably have at least the first version of Movie Maker. Honestly, the original Movie Maker left a lot to be desired, and you shouldn't waste time with it.
To see which version you have, follow these steps:
Select

Start, All Programs, Windows Movie Maker

. If Movie Maker does not appear on your

Windows All Programs

menu, you might have to select

Accessories

and possibly

Entertainment

before you locate the

Movie Maker

option.


After Movie Maker starts, select

Help, About Windows Movie Maker

.



Make sure you have the latest Movie Maker before editing video.

Read down the

About

dialog box until you see

Windows Movie Maker Version

X.XX

. If the version number begins with 2, such as

2.03

, you have Movie Maker 2. If you have the first version, you need to upgrade to version 2 immediately.


All you need is an Internet connection to upgrade Movie Maker to version 2. Select File, Exit to quit Movie Maker version 1 and follow these steps to upgrade to Movie Maker version 2:
Point your Web browser to www.microsoft.com/windowsxp/moviemaker/default.asp , Microsoft's Movie Maker Web site.


Scroll to the

Downloads

section.


Click the link labeled

Movie Maker 2

.



Download Movie Maker 2 if you have the previous version.

Click the

Go

button on the right side of your screen ( assuming you want the English version). If you want to download a different language, first select the language and then click

Go

.


Click the

Download

link on the right side of your screen. A download dialog box opens.


If you want, you can download the Movie Maker upgrade to your computer by clicking

Save

and selecting a location. You really don't have to save the file unless you want to have it to upgrade other computers you own, or in case you have to re-install Movie Maker 2 later. If you don't elect to save the file, click

Open

to start the installation. If you save the file first, click

Open

after the file is saved.


Follow the installation instructions as they walk you through the process.


Getting to Know Movie Maker
After you ensure that Movie Maker 2 is installed on your computer, you're ready to start the program and take a quick tour. If Movie Maker is not running, select Start, All Programs, Windows Movie Maker to start the program.
The rest of this book teaches you all you need to know about using Movie Maker. A quick preview will make you more comfortable with Movie Maker's screen. Depending on the start-up settings and View options selected, your screen might differ somewhat from the ones shown in this chapter. Also, the figures here show Movie Maker during a video-editing session "when you start Movie Maker for the first time, your video-editing session will be blank. Nevertheless, you can learn the parts of the screen now so that you'll better understand subsequent discussions throughout this book's tasks.
NOTE
| | |
| --- | --- |
| | If you've never edited video, Movie Maker's screen might seem confusing at first. After you learn the fundamentals, you'll see that the screen is easy to navigate and understand. |
Movie Maker provides the video editing tools you need.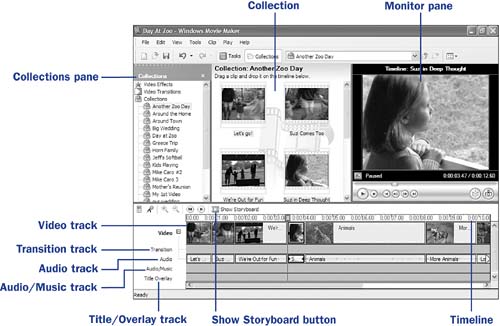 Take a few seconds to locate and review the following major sections of the typical Movie Maker screen:
Collections pane " A Movie Maker window pane that contains various transitions, special effects, video, and audio content that you can select from for your video. When you import video into Movie Maker, the video's name appears in the Collections pane. You can drag any item from the Collections pane to the Collection to see individual video clips that you then can add to the video you're currently producing ( see 17 About Collections, Contents, and Projects ). Some video-editing programs have a similar pane called the asset pane that holds a repository of content you can pull into your current project to add to your movie.

Collection " When you drag an item from the Collections pane to the Collection , usually the item breaks into multiple clips. You then can choose to insert one or more clips into your movie in any order.

Monitor pane " Also called the monitor , the Monitor pane is like a small video screen where you can preview clips, pictures, special effects, transitions, and movies ( see 24 Watch Your Video in the Monitor ).

Timeline " A row of clips that define the order and timing of your movie. As you add and remove clips, sound, transitions, and special effects from the movie you're currently creating, the timeline updates to reflect the order and timing of your movie ( see 36 Place a Clip on the Timeline ).

Video track, Transition track, Audio track, Audio/Music track , and Title Overlay track " As you add items to your movie, the various items (such as transitions or background music or audio narration) appear on various timeline tracks.
TIP
| | |
| --- | --- |
| | If some of the window panes appear to be missing when you start Movie Maker, you can use the View menu to display the missing panes. |
NOTE
| | |
| --- | --- |
| | It's unfortunate that the Collections pane and the Collection share a common name. The Collections pane contains all the items available for your video production. The Collection contains only those specific video, audio, and still picture clips you want to select from to make your current movie. |
NOTE
| | |
| --- | --- |
| | The storyboard is the timeline's sister, and is viewable by clicking Show Storyboard atop the timeline. The storyboard shows your movie's clip order and contents, but does not show the timing of those clips. The storyboard is more useful than the timeline when viewing your movie's overall sequence. |
Movie Maker's tasks provide step-by-step wizards that walk you through all major movie-making features.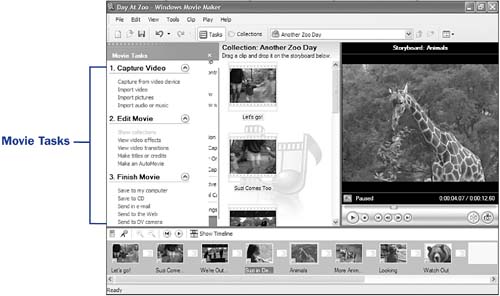 A Word on File Formats
Movie Maker is fairly generous in its support for files from all sources. You can capture any kind of video and audio file, as long as you can pull that file from your FireWire connection. Most digital video cameras sold today allow this connection. You can capture video and audio from any video or audio source if you use a video capture card (or if you have a digital camera that supports analog input).
Perhaps just as important as Movie Maker's capability to capture video content is its capability to import from video and audio files that you might already have stored on your computer:
Movie Maker can import any of the following video file formats: .asf, .avi, .mpeg, .mpg, .m1v, .mp2 , and .wmv .

Movie Maker can import any of the following audio file formats: .aif, .aifc, .aiff, .au, .mp3, .snd , and .wav .

Movie Maker can import any of the following still image formats: .bmp, .gif, .jfif, .jpe, .jpeg , and .jpg .
NOTE
| | |
| --- | --- |
| | Still images play important roles in moviemaking as opening credits, advertisements, and as special breaks from the action. In addition, Movie Maker supports the creation of an entire movie filled with still images that so you can create an online scrapbook of picture memories. |
After you create a movie, you must save the movie in some format. Movie Maker is quite a bit more limited in its output formats than in its input formats. Movie Maker can only save your movie in the AVI, WMA , and WMV file formats.
Usually, you'll want to do more than just save the movie to your disk for later playback. After you finish creating a movie, you can send the movie to any of the following output locations:
To your computer's hard disk

To a video server on the Web so others can watch your movie

To someone via an email file attachment

To a digital video camera via the FireWire connection (You must save your video in the AVI format to send it to your digital camera)

To a CD

To a DVD
NOTE
| | |
| --- | --- |
| | Keep your video under one megabyte in size if you want to send it to a Web server or through email to respect others' download speeds. On a dial-up connection, downloading a complete movie can be very slow. |
Surprisingly, Movie Maker does not directly support the output of a movie to DVD. Several reasons for this exist, but the primary reason is that Windows XP contains no native support for writing to a DVD (the next version of Windows should). Although you'll surely want to send some movies to DVD, you must use a third-party, non-Microsoft program to do this. The program, such as Sonic's MyDVD and CD & DVD Creator ( see 108 Produce DVDs with CD & DVD Creator ), should support Windows Media Player file formats ( WMA and WMV ) because those are the file formats Movie Maker outputs best.
Not only will you want to obtain a DVD-writing program, you will probably want to get other programs that enhance your Movie Maker experience. Microsoft offers two that complement Movie Maker's features, one that's free and one that retails for less than $20. You can download the Movie Maker Creativity Fun Pack ( see 93 About the Movie Maker Creativity Fun Pack ), which adds new titles, credits, and special sounds to your Movie Maker Collection pane. Microsoft's Plus! Digital Media Edition is a program that adds new transitions, special effects, and a DVD and CD label generator that can accentuate your movie making ( see 100 Install Microsoft Plus! Digital Media Edition (DME) ).
Use programs like Sonic's MyDVD to store your movie productions on DVDs others can play.