Overview
In the last two chapters, we explored the basics of making a recording as well as some record-time special effects you can implement. This chapter further explores the capabilities of the Recorder by teaching you how to set its various preferences, such as file settings, codecs, and hotkeys. And that's just skimming the surface. In Camtasia Recorder, you've got a vast number of behind-the-scenes options that affect the Recorder's functionality to some degree. Be warned: There's a lot of tweaking you can do to alter and extend the core capabilities of the Recorder, and the Tools Options dialog is where it all happens.
To get to the Tools Options dialog, do one of the following:
Click the Tools menu, and then choose Options….

or

Click the Options tool on the Main toolbar.
| | | |
| --- | --- | --- |
| | Tip | If both the Options menu item and the Options tool are grayed out, this means that you can't enter the dialog because you're recording (or in paused mode) right now. Just stop the recording, and you'll find that you can access the Tools Options dialog once again. |
Is your Tools Options dialog open? Good. As you can see, the dialog contains six tabs: Capture, Video, Audio, Camera, Hotkeys, and Program. Note that the Capture tab comes up first by default. As a shortcut, if you know which tab you want to work in prior to opening the Tools Options dialog, you can click the arrow next to the Options tool, and then actually select a particular tab from either the Tools Options or the Effects Options dialogs, as seen here: Let's discuss these tabs.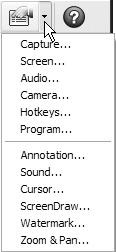 Every Options tab is available in one handy list.