Cost estimating and cost budgeting are both in the planning process group, and they are closely related. Budgeting takes as its key input the cost estimates for activities or work packages that were the outputs of the cost estimation process. The main output is a costed plan. At the beginning of this chapter we noted the difference between cost estimating and cost budgeting: estimating operates at the level of activities, and cost budgeting takes the estimated costs of activities and aggregates them to the project level in the form of a cost baseline. Figure 7.3 shows the inputs, tools and techniques, and outputs for the cost budgeting process; the process is straightforward and needs little detailed explanation, except that it is important to understand the difference between this process, cost budgeting, and the previous one, cost estimating. We say more about this below.
Figure 7.3. The cost budgeting process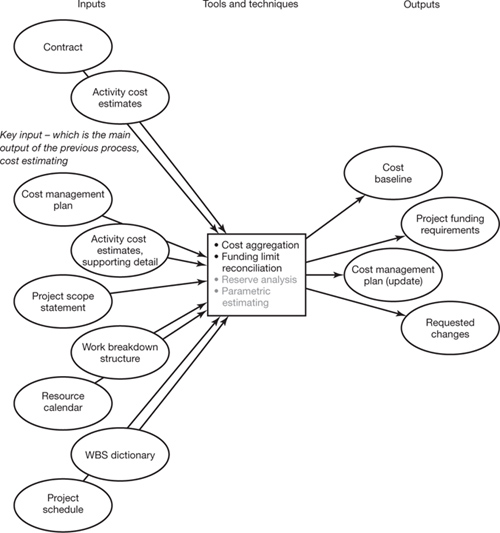 What is the difference between a costed activity and a budget? Take the example of tennis coaching. Coaching one person costs whatever the coach's fee is per hour, but coaching two people might cost the same if the one coach is teaching both people at the same time. And it might be that the coach charges more in summer than at other times. So if your project entails having two people coached in tennis, the cost variables are when they are coached and whether they are coached together. The raw cost data and the cost variables are discovered in cost estimating, and the decision of which cost option to go for and the calculation of the cost ramifications for the project come in the budgeting. Budgeting is also the process in which the project is assigned a cost code and work packages within the project are assigned sub-codes.
For internal projects, the project cost plan must be structured in a way that is consistent with the internal accounting procedures and policies of the performing organization. It helps communications and saves time if externally managed projects also relate easily to the accounting system used by the customer organization. A project manager who is not familiar with the relevant requirements should work through the sponsor to find a contact in the accounting department and get some instruction.
What should the updated cost management plan that is an output of this process look like? Every organization differs, and you should obtain an example of how your organization works. However, it will usually include the following cost information:
Projected costs at regular periods (typically weekly or monthly) throughout the life of the project, in aggregate and down to the level of cost package.

Costs for each work package, and costs risks for each package.

Costs for each resource.

Mechanisms and criteria for releasing future blocks of conditionally approved project funding.

Cost warning and indicator limits.

Budget and accounting codes, authorizations, limits.

Cost process interfaces between the project and the performing organization.