Figure 9.5 shows the process group for acquiring the project team. The inputs to this process are the organizational process assets, enterprise environmental factors and the three outputs from the human resources planning process: roles and responsibilities, project organization charts, and staffing management plan.
Figure 9.5. The acquire project team process
Adapted from PMBOK Guide (p.209)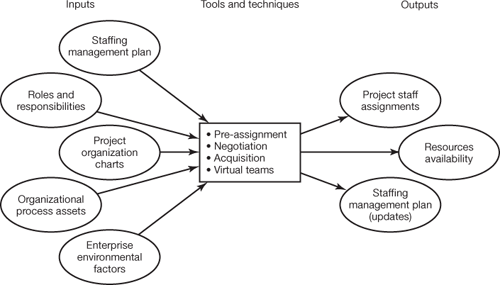 There are four tools and techniques to use during this process. The first technique is pre-assignment. This is where project team members know in advance that they are to work on the project. This often occurs when specific individuals are committed to the project as part of a competitive pitch. The second technique is negotiation. Often the process of acquiring team members requires the project manager to compete for key personnel. Negotiation may occur between competing projects or with functional managers. It is often the project manager's influence within an organization that results in obtaining the required people. The third technique is acquisition. This technique is used when there is no internal resource to fulfil an aspect of the project. The project manager can choose to hire a new employee, engage consultants or sub-contract the work out. The final tool is the use of virtual teams.
| | |
| --- | --- |
| | 'Virtual Teams. Groups of people with a shared goal, who fulfil their roles with little or no time spent meeting face-to-face. The availability of electronic communication, such as e-mail and video conferencing, has made such teams feasible.' PMBOK Guide (p.379) |