Apple's tiny digital music player, the iPod (see Figure 11.8) can serve double-duty. You can use it as an extra FireWire hard drive for your computer as mentioned in Chapter 7, "Choosing Peripheral Devices," or you can just stick with its core function, which is a hand-held (or pocket-held) music device.
Figure 11.8. The iPod delivers digital music with style.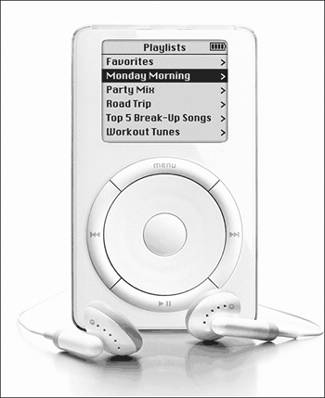 Making your iPod work with your Mac is an almost automatic process, so I'll be brief about it (aren't you glad?).
Updating Your iPod's Music Library

To dock your iPod to your Mac, first make sure your Mac is running.

Take the FireWire cable that comes with your iPod (or any regular FireWire cable for that matter) and plug it into your iPod and your computer's FireWire port. When connected, you'll see a FireWire icon on your iPod's display. When set up, iTunes will open automatically and your iPod will automatically synchronize its music library with the one on your computer.

| | |
| --- | --- |
| | Some FireWire cables, especially those designed for DV camcorders, have a 4-pin cable at one end. These won't work with your iPod, which requires a 6-pin cable to enable it to draw current from your computer, used for recharging its battery. |




If you prefer to transfer music manually, connect your iPod as described previously and allow iTunes to launch.

Select your iPod in the iTunes source list (the list of music libraries), and click the iPod icon at the bottom right of the iTunes window, which opens the program's preferences box.

With preferences displayed on your computer's screen, check the item labeled Manually Manage Songs and Play Lists.

| | |
| --- | --- |
| | You won't be able to use your iPod with other computers without it replacing your music library if you use the standard option to automatically update your play list when your iPod is attached to your computer. That's because it'll base its play list strictly on the Mac to which it's connected. If you feel you want to use the iPod on different Macs, use the manual song management option described previously. |