5.4. Driving CE, PC, and Mobile Industry Convergence
Consumers typically have three or more display devices in their home that will need to receive at a minimum the MPEG-2 video format. With digital TV, flat panel displays (plasma and LCD), DVD, DVR, and digital camera sales at an all-time high, it is clear that consumers' move to a multimedia home environment and wireless connectivity within those devices is a natural next step. Today, consumers must deal with multiple wired interfaces such as 1394 (FireWire) or USB (1.1 or 2.0), which complicates the interoperability among the PC-oriented products and consumer electronics devices. Although USB 2.0 is being incorporated in a greater number of consumer electronics devices, there is still a significant "barrier of interfaces" that prevents true interoperability between the PC and CE industries. Figure 5-3 illustrates this division.
Figure 5-3. Bridging the divide between USB and 1394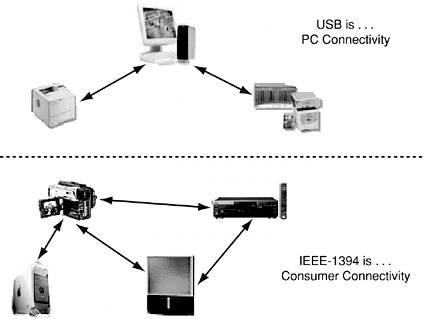 Ultra-wideband will enable consumers to take that next step to pervasive connectivity within the home. Over the next five to seven years this interoperability will transfer to mobile communications devices such as smart phones as well. The need for interoperability is just one reason why UWB adoption will increase at a much faster rate than either USB 2.0 or FireWire. In fact, there are several current industry trends, such as existing market conditions, that will drive UWB adoption:
Increasing multimedia usage in the home.

Increasing usage of entertainment storage devices: sales of consumer gear with hard drives are growing by 50 percent per year [2].

Ongoing convergence between PC and CE industries.

Rapid growth of Wi-Fi in homes.

Rapid growth of several consumer-oriented digital devices.

Emergence of integrated devices, such as DVD players/recorders and personal video recorders (PVRs), with added functionality.