This appendix explains how to install and customize setup options for Microsoft Office Visio 2007 on an individual computer. If you're installing Office Visio 2007, you'll probably find what you need in this appendix, which tells you how to customize options during Visio 2007 setup.
Installing Visio 2007
Microsoft recommends that you first uninstall any previous versions (especially betas) of Visio before installing Visio 2007 to prevent potential conflicts between the programs. This step is not entirely necessary (unless you have a beta version installed)-the Setup program can uninstall previous versions, or you can choose to retain a previous version of Visio.
| | | |
| --- | --- | --- |
| | Caution | Before installing Visio 2007, uninstall any beta versions of Visio. |
Step 1:

Start Setup

To install Visio 2007 on an individual computer, first exit all other programs, including e-mail and virus detection programs (especially virus detection programs). Insert the Visio 2007 CD-ROM into the computer's CD-ROM drive. If Microsoft Windows Vista displays a dialog asking whether you want to run the Setup.exe autoplay program, click Run Setup.exe. Depending on your security settings, you will then be prompted with a User Account Control dialog requesting your permission to continue. Choose Continue. As the Setup program prepares to install, it displays an initializing screen, as Figure A-1 shows.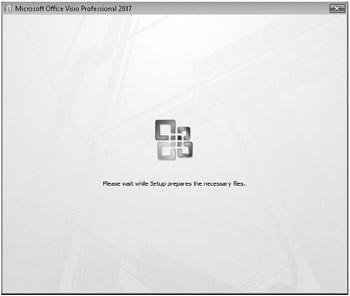 Figure A-1: The Setup program displays a banner screen while it prepares the installation files.
The Setup program displays the first screen, as Figure A-2 shows. If the Setup program does not start automatically, choose Start, All Programs, Accessories, Run, and then in the Run dialog box, type d:\Setup and click OK (replace d with the drive letter for your CD-ROM drive if your CD-ROM drive uses a different letter).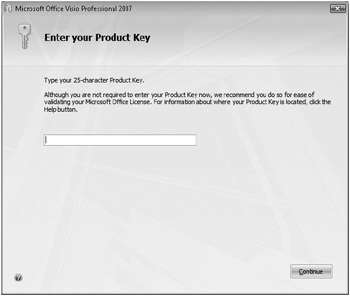 Figure A-2: To proceed with the Setup program, you must type the 25-character product key on this screen.
If you provide the correct product key and click Continue, the Setup program displays the license agreement, to which you must agree before you can proceed. (If you leave the product key blank and click Continue, Setup skips the license agreement screen. You will be able to use Visio 2007 25 times before being required to enter a valid product key.) Select the I Accept The Terms of This Agreement check box at the bottom of the screen, and then click Continue.
Step 2:

Choosing Your Installation Type

On the next screen, shown in Figure A-3, you choose your type of installation. The Install Now option is recommended because it installs the options most users need. Clicking Customize lets you choose the files to install.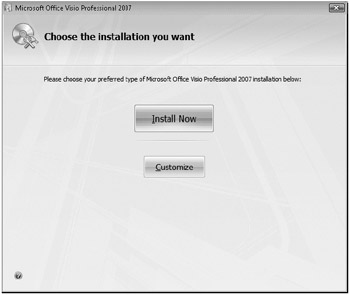 Figure A-3: Choose which type of installation you need on this screen.
If you choose a custom install, you can then choose which features you wish to install.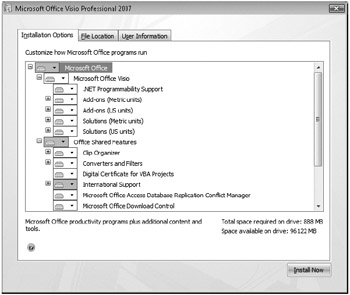 For example you can choose which templates to install and select options for how each template will be installed.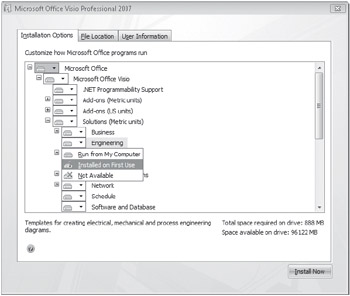 The options are as follows:
Run From My Computer The selected feature will be installed on your hard drive and will be run from your computer.

Run All From My Computer The selected feature, and all its options, will be installed and run from your computer.

Installed On First Use The template will be installed the first time that you need to use it. This requires the CD at the time you first use and install the template.

Not Available The selected feature will not be installed and it won't be available.
| | | |
| --- | --- | --- |
| | Note | If you're installing Visio 2007 from a network location rather than from the Setup CD, the Installed On First Use option is a great way to hedge your bets about features you're not certain you'll need. It's quick and easy to install the feature later. However, if you install from the Setup CD, you will be prompted for the CD if that feature ever becomes necessary, which could be inconvenient if your CD doesn't happen to be near your computer at that moment. |
You can also choose where you wish to install Visio 2007 on the File Location tab of the custom installation screen. Just type in a path in the text box or browse to the location using the Browse button to the right of the text box. You can also enter your personal information on the User Information tab.
| | | |
| --- | --- | --- |
| | Note | If the file path you specify in the text box is longer than 120 characters, the Setup program displays an internal error message. If this happens, click OK, and then type a path name that contains fewer characters. For example, the default installation location (C:\Program Files\Microsoft Office\Office12) contains 41 characters (including the space characters). |
Step 3:

Installing with a Previous Version of Visio

You have several options if Visio 2007 discovers an earlier version on your computer. You can choose to remove the earlier version and install Visio 2007 by choosing Remove All Previous Versions, or you can choose to remove a specific version. Then click Next. If you want to keep other versions of Visio, select Keep All Previous Versions or choose the specific version that you wish to retain. You'll need to specify a different installation path in the Setup wizard on the next screen. Visio 2007 is supposed to be compatible with earlier versions of Visio, but problems can occur when you run different versions of Visio on the same computer.
Step 4:

Installing Visio 2007

When you click Install Now, the Setup program proceeds to copy all the program files to the selected location.
Inside Out

Customizing template versions

Visio 2007 includes two versions of each template and add-in: one that uses U.S. measurement units and one that uses metric units. The templates and add-ins are identical in every way except for the measurement units. If you want to include both versions, you can specify that you want to install all the Solutions (Metric Units), Add-Ons (Metric Units), Solutions (U.S. Units), and Add-Ons (U.S. Units).
One thing you can't customize is exactly which template or stencil to install. You can choose only sets of templates (and their associated stencils) based on the solution that Visio 2007 installs. For example, you can install all of the templates in the General solution or none of them, but you can't selectively install the Block Diagram template without the Block Diagram With Perspective template. You do have the choice of installing none, some, or all of the annotation, border, background, CAD drawing, callout, pattern, and symbol shapes, most of which are installed in the Visio Extras solution. These options appear under the Add-Ons feature.
Cross-Reference For details about the templates included in each solution, see Appendix B, "Template and Stencil Reference."