When working in Flash, you will begin to notice that the abundant tools, commands, panels, and options take up time when you have to search for them and click options in a certain order. That's why I love shortcuts. When you get comfortable using them, your design and development time will begin to shorten.
To see the available shortcuts, choose Edit, Keyboard Shortcuts and you will see a screen pop up, as shown in Figure 2.27.
Figure 2.27. The Keyboard Shortcuts dialog box.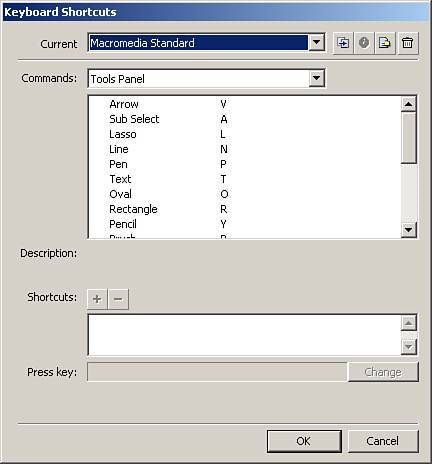 The options in this menu are the following:
Current This allows you to choose which type of built-in shortcuts you prefer, including Macromedia Standard, Fireworks 4, Flash 5, FreeHand 10, Illustrator 10, or Photoshop 6.

Commands This holds the groups of commands that have shortcuts, including Drawing Menu Commands, Drawing Tools, Test Movie Menu Commands, Workspace Accessibility Commands, and Actions Panel Commands. In the large list box under Commands, you can see the subsets of groups.

Description Gives a description of the command when you choose one. (This is not an option that can be adjusted.)

Shortcuts (+/-) Allows you to add or remove shortcuts from the selected command.

Press Key Retrieves the set of keys when you press them for the shortcut and lets you know if they are available.

Change Button Sets the focus into the Press Key box.

Duplicate Set Button Duplicates the current set of shortcuts you are viewing so that you can make changes.

Rename Set Button Allows you to rename the current set of shortcuts.

Export Set as HTML Allows you to export the selected list of shortcuts to an HTML file that can be viewed at any time as a reference. You can see an example in Figure 2.28.

Figure 2.28. The exported Macromedia Standard shortcuts.




Delete Set Button Allows you to delete the current set of shortcuts. (You cannot delete any of the built-in sets of shortcuts that come with Flash.)
You can also create your own set of shortcuts, as this next walkthrough will show you:
| | |
| --- | --- |
| 1. | In the Keyboard Shortcuts dialog box, select Macromedia Standard in the Current drop-down box. |
| 2. | Click the Duplicate Set button, name the new set mySet, and click OK. |
| 3. | If you decide you do not like the name mySet, at any time you can choose to rename the set by selecting it in the Current drop-down box and clicking the Rename Set button. Then name it anything you like. |
| 4. | To continue to change the shortcuts, choose a set you like, such as the Tools panel for this example. |
| 5. | Select the Arrow selection in the list box. |
| 6. | Click the plus sign beside Shortcuts. |
| 7. | The word <empty> will appear in the Press Key box as well as in the list box under Shortcuts. |
| 8. | Press the "D" key and then click Change. |
| 9. | Click OK. Now you can select the Arrow tool by pressing "V" or "D." |