Figure 21–6 shows a simple HTML Web page created as a menu to allow you to link to other pages on the Web site to view reservations and requests. We used Expression Web to create the page and then added two buttons to go to the related pages. We also applied one of the simple Expression Web themes to the page. We asked Expression Web to create the hyperlinks behind the two buttons as relative links to files in the same folder, so the three pages should work together no matter where you publish them as long as all three are in the same folder. (You can find this example page saved as menu.htm in the WebChapters\StaticHTML folder on the companion CD.)
| | | |
| --- | --- | --- |
| | Note | The examples in the remainder of this chapter are based on the tables and data in the Housing Reservations database (Housing.accdb). You can find the sample Web pages in the \WebChapters\StaticHTML folder on your companion CD. |


Figure 21–6: You can create a simple HTML menu page easily using Expression Web.
If you open the simple menu page in your browser and click the Reservations button, you'll see the data from the tblReservations table in the Housing Reservations database, as shown in Figure 21–7. We created this page by exporting the tblReservations table from Access as an HTML file. To move back to the menu Web page, click the Back button of your browser.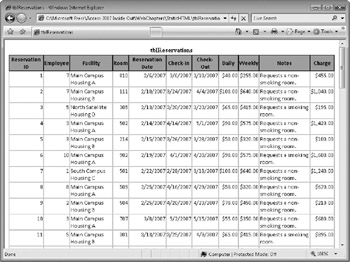 Figure 21–7: This simple Web site displays data exported from an Access table.