In both Outlook and Outlook Express, you can cut and paste a set of Access records or a table directly into an e-mail message. In Outlook, make certain that the Message Format box on the E-mail toolbar is set to either Rich Text or HTML. In Outlook Express, Rich Text (HTML) should be selected from the Format menu.
It's also easy to send a table, query, form, or report as an attachment. In the Database window or in the open object itself, choose File, Send To, Mail Recipient (as Attachment). Access displays the various formats that are available (see Figure 13.11).
Figure 13.11. You can attach an Access object to an e-mail in a variety of formats.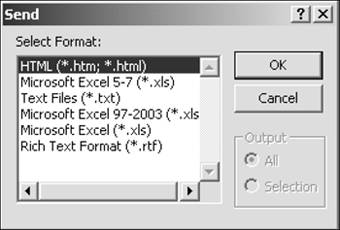 For a report, you'll notice an additional choice: Snapshot Format. A report snapshot is a file that contains an exact copy of each page of a report, preserving its layout, graphics, and embedded objects. A Snapshot file has an SNP extension and can be read with Snapshot Viewer software. Microsoft Office users shouldn't have a problem reading a snapshot. Non-Office users can include a link in the e-mail message for users to download the Snapshot Viewer at the Microsoft site (www.microsoft.com/downloads). Depending on the audience, a snapshot might fit the recipient's specific needs or simply cause more hassle than using HTML and other widely used formats.