Rather than you having to read a PDF on screen, Acrobat can read the document for you! And you can adjust how the document is read. Here s how to use and adjust Read Out Loud capabilities:
Activating the Read Out Loud function is easy. Simply choose View > Read Out Loud > Read This Page Only or Read To End Of Document, depending upon your preference (Figure 6.21).
Pausing and stopping Read Out Loud is also possible through this menu, but the keyboard controls are much more convenient . Here are the four Read Out Loud keyboard controls:
Modifying Read Out Loud
A set of default controls, such as voice type, reading speed, and pitch, is applied to the Read Out Loud function. You may want to adjust these to suit specific viewers . To do so, activate the Acrobat Preferences: Acrobat > Preferences (Mac), or Edit > Preferences (Windows), or

/Ctrl+K. Select the Reading Preferences (Figure 6.22), and adjust these to suit your needs: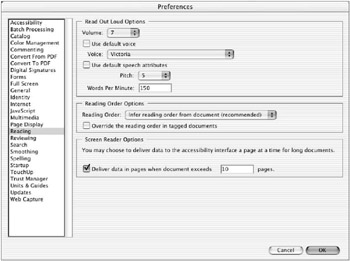 Figure 6.22:

Reading Preferences
Volume The default volume is 7, which will have various output levels depending upon the sound system it is run through. Adjust to suit your listening level.
| | |
| --- | --- |
| Note | Most computers have a sound level control button on the computer and/or a keyboard control through the operating system. You may want set the Acrobat sound higher than you normally like, to act as a maximum level, and then use your other sound control tools to adjust the final sound output level. |
Voice type You can use the default voice (which is Victoria) on the voice list, or you may want to try another. Most of the voices are less satisfactory, in terms of hearing quality if not fun, than Victoria, but you might want to give Agnes a shout.
Speech attributes Here again you can use the default speed and pitch values. However, I do recommend that for most uses you slow the voice speed down to its minimum value, which is 150. This is typically a bit easier, and less tiring to listen to, than high voice speeds, particularly if your sound output quality is poor.
Reading Order Options You will typically want to leave this setting on the default value, Infer Reading Order From Document. If you are unhappy with the reading order in the document, I recommend changing the reading order in the document rather than trying to sort it out here, which is rarely successful. (

the section on reflowing PDF contents in Reflowing (Changing the Order of) PDF Contents in Chapter 12, Editing PDF Documents, for information on how to change the reading order.)

Screen Reader Options This setting affects how the PDF is delivered to the screen reading device. The default is to have this activated with a default value of 10 pages. Leave this setting as is unless your screen reader device s instructions make a different recommendation.
As you become familiar with all of Acrobat s use and navigation tools, you will adopt your own set of tools and techniques, which may include a mix of manual, keyboard shortcut, and automated functions, that work best for you and your capabilities.