The Composer Insert HTML Tag function is terrific for inserting a tag or two in a file, but for more serious HTML work, simply editing the HTML source file itself is easier.
Many Web authoring programs include an HTML source editor (but not Composer). But for basic changes, any text editor will do. Windows has a built-in text editor, Notepad (see Figure 26.6). To open Notepad, click the Windows Start button and choose Programs, Accessories, Notepad.
Figure 26.6. You can use Windows notepad to edit HTML source code directly.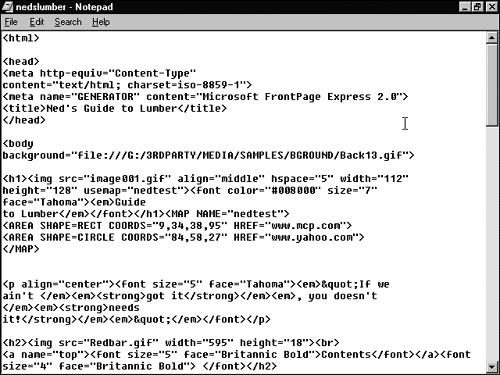 To open one of your Composer pages in Notepad to edit its HTML, open Notepad and then choose File, Open. In the Open dialog box, open the Files of Type list (see Figure 26.7) and choose All files (doing so makes HTML files, and all other file types, appear in the lists of files the Open dialog shows). Then browse to your file and click the Open button.
Figure 26.7. Choose All Files from the File of type list to choose an HTML file to edit.