When is a permission not a permission? Give up? When it's a feature! In the last chapter I glossed over the Admin

Manage organization

Features option because it's more germane to security discussion. The list of so-called features that you may manipulate from the interface, shown in Figure 10-1, is identical to the list of permissions you may set in Groups, Categories, and Users. Simply put, it's the master security list of permissions. Turn it off here and it doesn't matter what values you chose in Groups, Categories, and Users.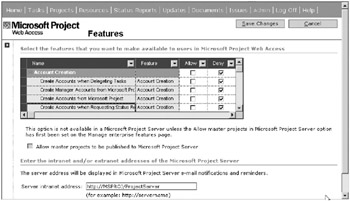 Figure 10-1. Features administration interface
As Figure 10-1 shows, the four account creation selections (covered later in this chapter) under Account Creation are explicitly denied. This is the default state for these upon installation. All other features are set to Allow in the interface. Only account creation is denied by default.
The Project Server features displayed here are organized into 11 categories. Note that the last category pertains to workgroup configurations and isn't covered here. If a feature is denied or not allowed in this display, it won't be available to any user of the system at any time regardless of his or her individual, group, or category permissions.
The presentation of these options in the Features interface lists the feature categories and their individual selections. A categorical sort isn't a pleasantry provided when presented for selection in groups. Here's how it reads as you scroll down through the features list:
Account Creation
Create Accounts when Delegating Tasks

Create Manager Accounts from Microsoft Project

Create Accounts from Microsoft Project

Create Accounts when Requesting Status Reports
Administration
Manage enterprise features

Customize Microsoft Project Web Access

Manage users and groups

Manage security

Manage licenses

Manage views

Manage SharePoint Team Services

Clean up Microsoft Project Server database
Collaboration
View Issues

View Documents
Enterprise Portfolio Management
Save Enterprise Global

Save Project

Read Summary Assignments

New Project

Edit Enterprise Resource Data

Open Project Template

Backup Global

Open Project

See Enterprise Resource Data

New Resource

Save Project Template

Read Enterprise Global
General
Set Resource Notifications

Change Password

View Home

Set Personal Notifications

Go Offline
Status Reports
Tasks
To-Do List
Create and Manage To-Do List

Publish To-Do List to All Users

Assign To-Do List Tasks
Transactions
Manage Rules

Manage Calendar Changes

Manage Task Changes
Views
View Documents and Issues

View Project View

View Portfolio Analyzer

View Project Center

View Resource Center

View Assignments View

View Models

View Resource Allocation

See Projects in Project Center

See Projects in Project Views

See Resource Assignments in Assignment Views
Workgroup