Buried in the File Handling panel of the Preferences dialog box is a setting called Maximize PSD and PSB Compatibility (Figure 15.2). Not everyone knows what it's actually for, and a lot of people turn it off after realizing that it makes Photoshop documents take up more disk space. Many believe that it's there so that older versions of Photoshop can read the document, but there's more to it than that.
Figure 15.2. The Maximize PSD and PSB Compatibility checkbox makes it possible for other applications to read feature-rich Photoshop documents, such as layered documents.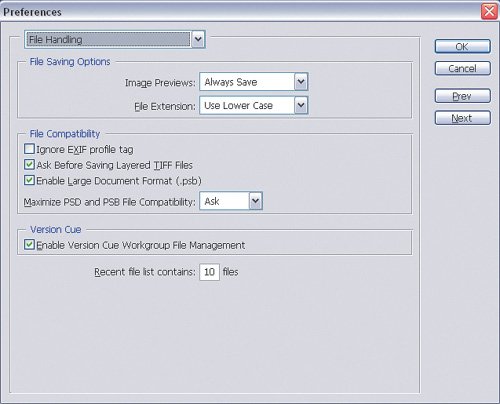 Many other programs claim to be able to read Photoshop files, but not all of them understand all of the possible kinds of Photoshop documents. Some programs can only read Photoshop files that are flattened. Others can't read Photoshop documents in 16-bit color, that are layered, or that use the Lab color mode. The Maximize PSD and PSB Compatibility option exists to get around this problem. It embeds a composite (flattened) version of the Photoshop document along with the usual Photoshop layers and other non-pixel datathat's why the document gets bigger. When a program opens or imports a Photoshop document that includes features it doesn't recognize, the program can fall back to the friendly composite version embedded in the document.
If you rarely view Photoshop documents with other programs, you might choose to disable Maximize PSD and PSB Compatibility and save some disk space. However, the more you handle Photoshop documents with other programs, especially non-Adobe programs, the more you want to enable that option. Remember that non-Adobe programs that handle Photoshop documents directly can include graphics-viewing utilities that come with your computer such as Apple Preview, page-layout software, video-production software, and digital-asset managers. Disabling Maximize PSD and PSB Compatibility may limit your ability to preview Photoshop documents in some Adobe programs. I keep it on because large hard disks are affordable.