2.10. Restoring your iPod Photo to its Factory Settings
If you have been adventurous and somehow messed up your iPod photo, you can perform the following steps to restore it to its factory settings:
Reset your iPod photo (see Section 2.9)

Quit iTunes if it is running

Run the iPod Updater (available on the CD, or visit http://www.apple.com/ipod/download/) (see Figure 2-43). Ensure that you are running the correct version of the iPod Updater. You should see the iPod icon with the red circle with a slash in it.
Figure 2-43. Using the iPod Updater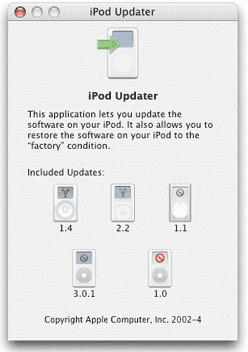 Figure 2-44. Use the iPod Updater to update or restore your iPod photo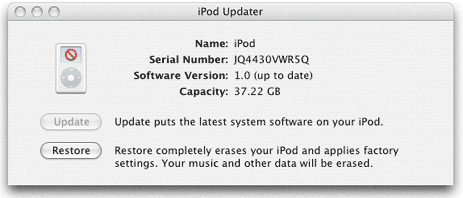 Your iPod photo is now back to its original settings. You need to connect it to iTunes to synchronize all the songs and photos again.