2.8. Podcasting with your iPod Photo
Podcasting is a new term associated with weblogs. Increasingly, media files are found in weblogs, besides the usual text and graphics. RSS 2.0 supports a new feature known as Enclosure, and it contains a URL pointing to media files in an RSS feed.
| | |
| --- | --- |
| | Podcasting is the aggregation of discrete, downloadable media files. While the term "podcasting" suggests an association with Apple's iPod, it is important to point out that podcasting is not limited to using Apple's iPod (for example, you can use Windows Media to listen to a podcast). |
iPodderX (http://ipodderx.com/) is a Podcast client for the Mac (see Figure 2-36). It downloads audio, movies, images, documents, and any other kind of files from the Internet.
Figure 2-36. The iPodderX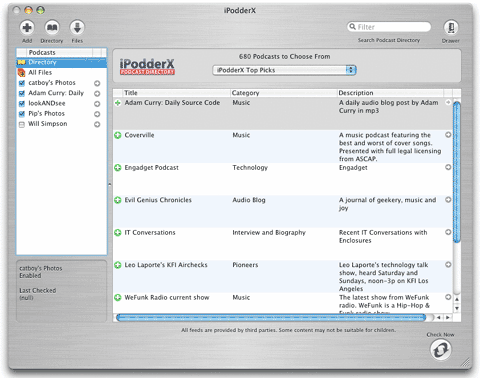 You can configure iPodderX to copy the downloaded files to iTunes (for audio files) and iPhoto (for images) (see Figure 2-37).
Figure 2-37. Setting iPodderX to copy the media files to iTunes and iPhoto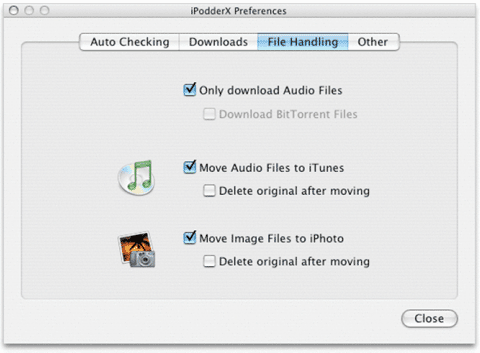 With your iPod photo, you can use iPodderX to download images from the Web and then automatically copy the images onto your iPod for viewing.
One of the popular sites that you can search for public photos posted by other users is Flickr (http://www.flickr.com).
To add a podcast to iPodderX, click on the "+" icon (see Figure 2-38).
Figure 2-38. Adding a podcast to iPodderX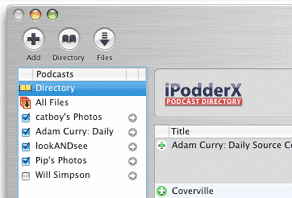 Enter the URL containing the RSS 2.0 feed of the site. For example, I found a podcast at: http://www.flickr.com/photos/catboy/. If you scroll to the bottom of the page, you will see a link pointing to the RSS 2.0 document. Ctrl-Click on the link and select "Copy Link to Clipboard".
In the new podcast dialog, paste the just-copied URL into the "Podcast feed URL" textbox. Click Add Feed (see Figure 2-39).
Figure 2-39. Adding a new podcast using the RSS 2.0 document link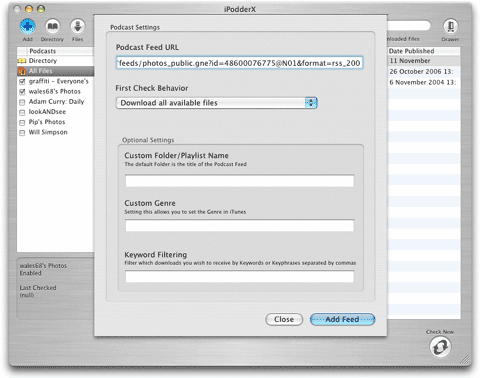 To download the files for all podcasts, click on the Check Now button located at the bottom right corner of the window (see Figure 2-40).
Figure 2-40. Downloading media files from all subscribed podcasts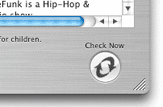 All images downloaded would be copied to iPhoto (see Figure 2-41).
Figure 2-41. Viewing the downloaded photos in iPhoto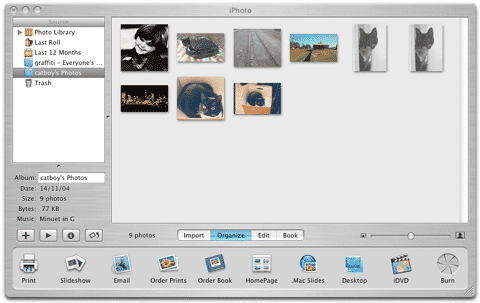 To copy the images to your iPod photo, you simply need to configure iTunes to synchronize the photos from iPhoto. You can now view the images from the podcasts on your iPod photo!
| | |
| --- | --- |
| | If a weblog supports both audio and images, you can download both types of files to your iPod photo and view a multimedia slideshow on your iPod photo! |