SharePoint Server 2007 provides several new and old features to help manage content that will influence you design decisions. Organizing content is only the first step in a successful SharePoint Server 2007 implementation. You also need to devise a plan to manage and access it.
Using Site Collections
When creating a new Web application in Windows SharePoint Services 2007, you are actually creating the environment to create a new site collection that can contain many subsites, document libraries, lists, and all other SharePoint Server 2007 and Windows SharePoint Services 3.0 content types. Think of a site collection as a container for sites and other SharePoint content, as shown in Figure 3-4.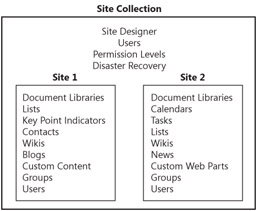 Figure 3-4: Site collection container view
Deploying Self-Service versus Administratively Created Sites
When readying your SharePoint Server 2007 server farm for production, you must decide how sites will be created. There are two options: administratively created sites and Self-Service Site Creation (SSSC). Administratively created sites is the default, but because this setting is a Web application setting, you can combine the two approaches with multiple Web applications. There are obvious advantages to Self-Service Site Creation, such as reduced labor by IT staff and immediate site creation. However, the SSSC approach also has drawbacks, such as a lack of control and accountability for site management.
Understanding Self Service Site Creation
Self-Service Site Creation enables users to create sites without the intervention of the IT administrative staff. This flexibility results in a user-friendly and highly collaborative environment. If SSSC is chosen, be sure to manage and expire content based on policies. The absence of these policies can lead to a plethora of outdated sites and content.
Understanding Administratively Created Sites
When site creation is limited to site designers or administrators, there is more control over the content and structure, but obvious delays in site creation and administration occur. Administratively created sites often have larger numbers of subsites, which can affect performance. Administratively created sites have the advantage of organizational control and might be necessary in some geographic or business areas to meet legal and regulatory guidelines. Keep in mind that administrative control and effective collaboration are inversely proportional.
| | | |
| --- | --- | --- |
| | Best Practices | Most deployments will need a combination of both administratively created sites and user-created sites. A hallmark of a highly collaborative environment is that it provides the ability for the end-user to create new collaboration spaces that have a low transaction cost. The ease and flexibility of creating new sites by end users without having to involve IT staff is a key component to a successful deployment of SharePoint. Now, I know this runs counter to your need for control. Most IT administrators are high-control people; it's a necessary part of the job. And a talented administrator will control that which needs to be controlled, such as site creations for departments, divisions, new servers, content sources, new search scopes, and other centrally administrated and controlled farm, server, and site configurations. That same administrator won't try to control tasks that users can do themselves. The distributed administrative architecture of this product leads to a distributed architecture for creating new sites. Give your users a place to create new sites, and don't worry too much about a loss of control. |
Using Administrative Delegation
Whichever site creation model you choose to implement, allow site administrators to delegate the level of access to content. In many organizations, the person who controls access to particular content is referred to as the data owner and is responsible for the dissemination of that content. The data owner will have a better understanding of required permission and can shorten the time a new user waits for access. A carefully planned migration can allow data owners to grant permissions on files and folders easily.
Using the Two-Stage Recycle Bin
With Windows SharePoint Services 2007 comes the addition of a Recycle Bin. This is a much anticipated addition and can drastically reduce the phone calls to restore data from tape. It is referred to as a -two-stage Recycle Bin because it consists of the user stage and the site administrator stage. It works much like the Windows Server Recycle Bin. Users can empty their Recycle Bin, but the administrator can also restore the deleted file within a configurable time limit set in Central Administration. This feature reduces the involvement by server operators and drastically lowers the TCO from SharePoint Services 2003.
Implementing Mobile Access
Be sure to plan and allow for access to your SharePoint Server 2007 implementation for remote users. SharePoint Server 2007 allows for offline files either in Office Outlook 2007 or in a My Documents drafts folder. Publishing your site via Secure Sockets Layer (SSL) or allowing access through a virtual private network (VPN) can solve most remote access issues. Keep in mind that Outlook calendars, contacts, and tasks are editable on either the SharePoint site or Outlook client. This flexibility increases the need for seamless remote connectivity to your server farm.
Connecting to External Data Sources
SharePoint Server 2007 comes with connectors to Line-of-Business (LOB) systems and SQL Server Reporting Services. The Business Data Catalog (BDC) integrates business data from LOB applications into SharePoint Server 2007 sites without the need for extensive custom programming. This functionality is useful for extracting sales, manufacturing, or other financial information and putting it into a user-friendly format.
Using the Reporting Site template, in conjunction with SQL Server Reporting Services and Excel Services, organizations can create Business Intelligence (BI) portals dedicated to providing real-time visuals into the health of the company. SharePoint Server 2007 has built in functionality for Key Performance Indicators (KPIs), SQL Server reporting tools, custom Excel Calculation Services, and many other BI tools that can be incorporated into a BI portal. Go to Chapter 20 for detailed information on Excel Calculation Services and Business Intelligence.
| | | |
| --- | --- | --- |
| | Note | A BDC source connection need only be configured once; it can then be available to all farms in an intrafarm or interfarm topology. |