3 4
Most people find themselves in need of a scheduling tool at one time or another. Whether you need to clarify project milestones or track task dependencies, Visio includes a template to meet your needs. For example, you can create timelines and Gantt charts that double as attractive illustrations in status reports, in slide shows, on your intranet site, or in other documentation, as Figure 12-1 shows.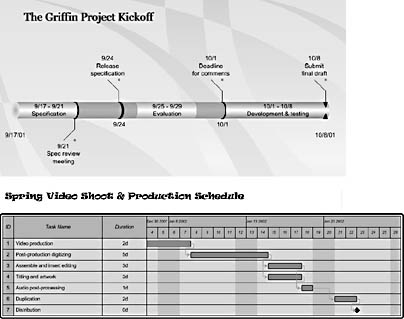 Figure 12-1. You can use Visio to create timelines and Gantt charts like these as well as monthly calendars and PERT charts.
InsideOut
---
With each release of Visio, the project scheduling templates have been enhanced. This version of Visio takes a significant step forward in ease of use. The development team set challenging design goals: streamline the code to improve performance, add features that would integrate more tightly with Microsoft Project and Microsoft Excel, and address issues raised by usability professionals. If you upgraded from Visio 2000, you'll like the changes to the Timeline and Gantt Chart templates in particular.
Visio's strength is in providing easy-to-use tools for high-level scheduling tasks. You can use Visio to coordinate dozens of resources and track hundreds of tasks, but the project scheduling templates are really designed for smaller-scale projects. You can create the following four types of project scheduling diagrams in Visio:
Timeline. Use to document high-level project milestones. A timeline displays start and finish dates and milestones for projects at a glance.
Gantt Chart. Use to provide a hierarchical view of the entire lifetime of a project. A Gantt chart can show how much of a task has been completed and helps you track a project's progress.
Calendar. Use to create all-purpose monthly or yearly calendars.
PERT Chart. Use to document project tasks, duration, and milestones in connected boxes that help in planning complex projects.
Using Visio with Microsoft Project
As a member of the Microsoft Office family, this version of Visio looks more like its project-scheduling cousin, Microsoft Project. If you use Project or work with people who do, consider Visio a companion product. You can easily import .mpx files in Visio to generate timelines and Gantt charts. However, Visio is simply not in the same project management league as Project—nor is it meant to be. Some people register for weeklong courses to learn how to use Project's powerful scheduling tools. With Visio, you can assemble a diagram in a couple of hours, if that, to track tasks and milestones. However, you don't have access to the type of reporting and advanced tracking features that Project offers.
Instead, Visio provides the best means to create attractive and simplified visual representations of a complex Project schedule. In addition, you can use Visio to develop high-level schedules that can be shared with Project users. When you save a Visio timeline or Gantt chart diagram in XML format, the data can be imported for additional analysis in Project. To make Visio easier to use with Project, the Visio designers even renamed some commands to match Project. For example, Promote Task and Demote Task in the Gantt Chart template are now Outdent and Indent.
Note
---
The XML file format replaces the MPX format for exchanging project scheduling files used in Visio 2000. Microsoft Project 2000 and later do not support the MPX format.