3 4
With other diagram types, you can format shapes and text by using the commands on the Format, Tools, and Shape menus. With an organization chart, you use the Organization Chart, Options command to customize the look of shapes and text and maintain a consistent look for your diagram. You can apply a design theme, which is a set of shape borders and text styles that apply to the entire diagram. You can also change the size of employee shapes and choose and format the text used for shape labels, as Figure 10-18 shows.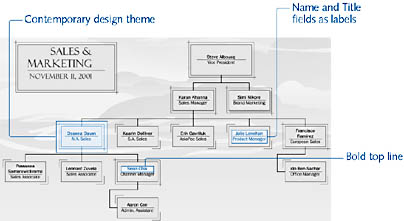 Figure 10-18. You can customize the look of your organization chart with design themes and text formatting options.
To open the Options dialog box, choose Organization Chart, Options to display the Options dialog box, as Figure 10-19 shows. Table 10-2 summarizes the formatting options that you can use in this dialog box.
Tip
---
To apply settings in the Options dialog box to all newly created organization charts, select the Use These Option Settings For New Organization Charts check box.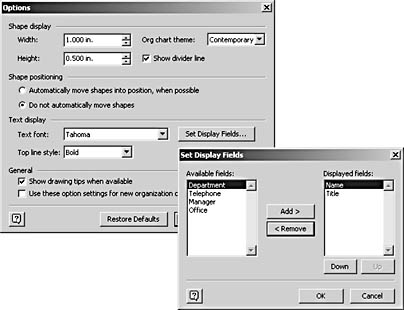 Figure 10-19. Use the Options command on the Organization Chart menu to specify shape and text settings for your diagram. Use the Set Display Fields command to choose the text that appears on shapes.
Table 10-2. Formatting Organization Chart Text and Shapes
| Task | Technique |
| --- | --- |
| Change the design theme of an organization chart | In the Organization Chart Theme box, select a theme. |
| Resize employee shapes uniformly | In the Width and Height boxes, use the arrow buttons to increase or decrease the displayed size, or type a size and units. |
| Change the format of all employee names | Under Text Display, select a font for all text labels of shapes in the Text Font list. To format the first linedisplayed on shapes differently (such as italic or bold), choose an option in the Top Line Style list. |
| Display different text on shapes | Click Set Display Fields, select a custom property from the Available Fields list, and then click Add to move it to the Displayed Fields list. Use the Up and Down buttons to change the order in which the fields are displayed. To remove a field, select it in the Displayed Fields list and click Remove. |
| Hide the line that Visio displays between the top and bottom lines of text in shapes | Clear the Show Divider Line check box. |