There are numerous options about where to buy your laptop. You can purchase a machine
Directly from the manufacturer, using the Internet or a catalog and telephone

Online or using a catalog from a computer reseller

At a "real" retail store such as a computer manufacturer's store, a consumer electronics store, a computer store, or an office supply store
There's nothing wrong with any of these options. It all depends on what you are most comfortable with and what works best for you. It's even okay to mix and match: You can check equipment out in a brick-and-mortar store, and then go ahead and buy it online.
Do make sure that you buy your Wi-Fi laptop from a reputable vendor who will make things right if there is a problem. It's a fact that the majority of hardware problems occur within the first twenty-four hours of use, so you want to be sure that the matter will be easily taken care of if you do happen to buy a lemon.
You might be offered a floor sample, demo model, or reconditioned model (or the same thing by some other name) at a very substantial discount. This is a place for the old saying caveat emptor, "Buyer Beware!" to come into play. I'd recommend that you avoid any such scenario in which the laptop you are thinking of buying has been used and turned off and on, even if it is reconditioned (or factory certifiedwhatever that means).
TIP
The first thing you should do when you get your laptop is run it for 24 hours. This should disclose most latent problems in the hardware. Some of this running time should be with the laptop on battery power (discharging), and some should be spent recharging with the laptop plugged in to an electrical socket.
It's easy to go to an online manufacturer's site to buy your Wi-Fi computer. For example, if you choose the Compare All Notebooks option on http://www.dell.com, you'll see the entire Dell current laptop offerings, as shown in Figure 2.2.
Figure 2.2. By choosing Compare All Notebooks on the Dell site, you can get information about all the currently available laptops.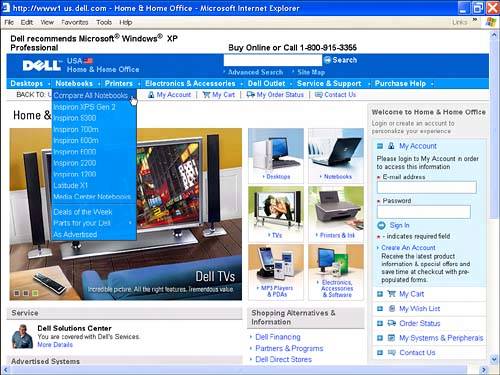 As shown in Figure 2.2, if you look at the models shown after you've clicked Home and Home Office, and then click Compare All Notebooks, in the middle you'll see two that are configured with Centrino-compliant technology from the get-go. These models are both designated with an "m" suffix (the Inspiron 600m and 700m). Other Dell models, such as the wide-screen Inspiron 6000, require you to select the options to make it Centrino compliant (a Pentium M processor instead of Celeron M).
Another thing to notice about the Dell website is that the ultra-long battery life models don't show up in the comparison view. You must select Latitude X1 from the list to see the models with the Intel Pentium M low-voltage (LV) and ultra low-voltage (ULV) processors.
On http://www.ibm.com, click on Notebooks in the Shop for column. This will take you to the Notebook finder, shown in Figure 2.3. This is an excellent way to sort through the available models.
Figure 2.3. IBM's Notebook finder helps you sort through models.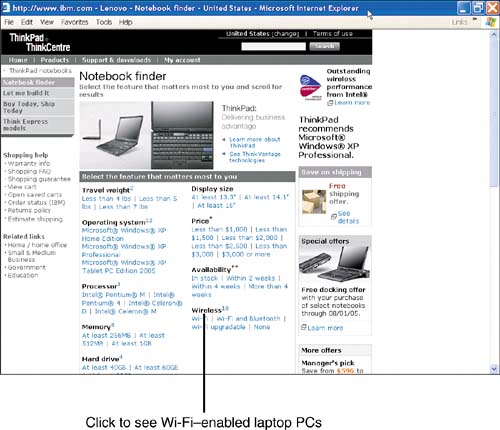 By clicking the Wi-Fi link shown at the bottom of the Select a Feature box shown in Figure 2.3, you will be presented with a feature selection list for all the models that are Wi-Fienabled (see Figure 2.4).
Figure 2.4. By selecting Wi-Fi, you can sort through all the models that are Wi-Fi-enabled.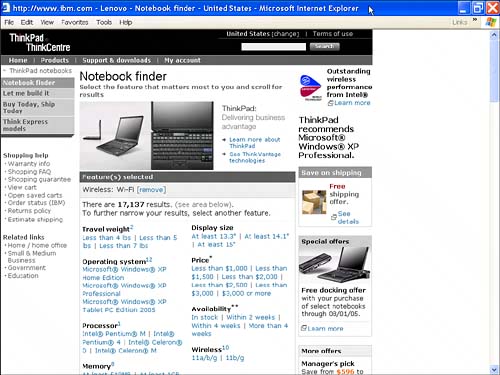 With your choices restricted to models that are Wi-Fienabled, you can now assemble a system that otherwise meets your needs. Because there are many choices of IBM laptops that are Wi-Fi enabledFigure 2.4 shows thousandsit's a good idea to restrict your choice next by using some other criteria, such as the price range you are interested in or by specifying a particular CPU.
If you want to compare Wi-Fi notebook computers in general, a good resource to use is http://www.cnet.com. You can then enter a search term such as "Intel Centrino Notebook." The results will provide a great deal of pricing and review information about a wide variety of products (see Figure 2.5).
Figure 2.5. CNET provides an easy way to compare multiple brands of wireless notebooks.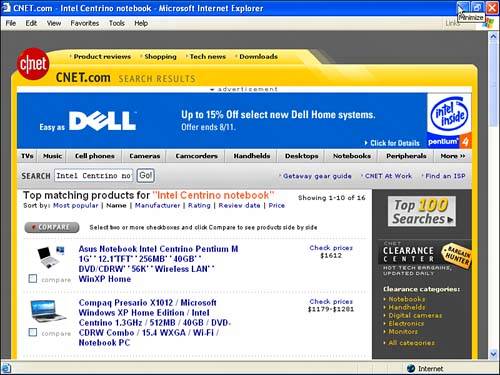 From within CNET, you can generally click links to specific retailers to buy online at the prices quoted in the CNET comparisons.
A final point is that simply entering a phrase such as "Intel Centrino Notebook" into a Web search engine such as Google or Yahoo! will produce a great many links for researching wireless equipment and purchasing wireless notebooks. You should be aware that some of these links have been bought as advertisements, so you should not regard them as an endorsement.