I'd like to show you a little more about units from Linksys, Apple, and D-Link. In Chapter 13, "Setting Up Your Access Point," I'll show you how to configure these units in your network.
Your laptop computer doesn't care whether the access point has an Apple nameplate. It will connect to the access point using Wi-Fi just as easily. In other words, Wi-Fi is operating system neutral. You can choose to run Windows XP, Linux, or Apple OS-X, and that is, as my Grandma used to say, "your nevermind."
Note
Most Linksys wireless broadband routers have been officially tested and verified for use with Intel Centrino mobile technology. The latest Linksys wireless routers support Intel Smart Wireless Solution technology, which simplifies setup and security.
Linksys Wireless Broadband Router
Linksys's Wireless Broadband Router (model BEFW11S4 runs 802.11b; model WRT54G runs 802.11g), shown in Figure 12.6, is an access point which you should be able to buy for a street price of around $4080.
Figure 12.6. The Linksys Wireless Broadband Router is decent and inexpensive.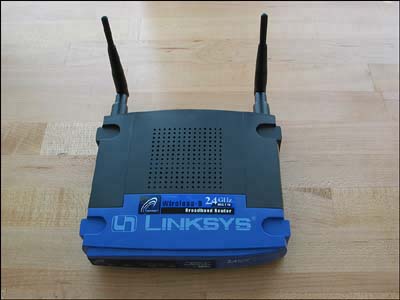 Note the two antennas on either side of the unit shown in Figure 12.6. Having two antennas like this helps give this unit solid signal strength and range.
The Linksys unit provides a connection to a modem connected to the Internet as well as four wired Ethernet sockets. These connections are shown in Figure 12.7.
Figure 12.7. The Linksys Wireless Broadband unit provides four wired network sockets.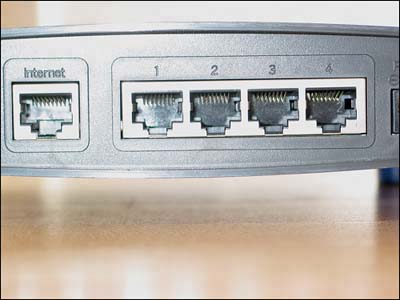 As you can see in Figure 12.7, you can plug the Linksys Broadband Router in to your cable or DSL modem, connect your wired computers to it, and use the unit to connect via Wi-Fi to wireless computers without needing further hardware. With this unit, you don't need no stinking router, or even a switch or hub (provided you have four or fewer wire-line computers).
The Apple AirPort Extreme Base Station
When I look at the AirPort Extreme Base Station, shown in Figure 12.8, I see something that somehow manages to combine cute with high tech. I don't know whether you've ever seen Woody Allen's movie Sleeper, but it reminds me of something from that retro Back to the Future film.
Figure 12.8. The Apple Extreme Base Station looks like a prop from the movie Sleeper.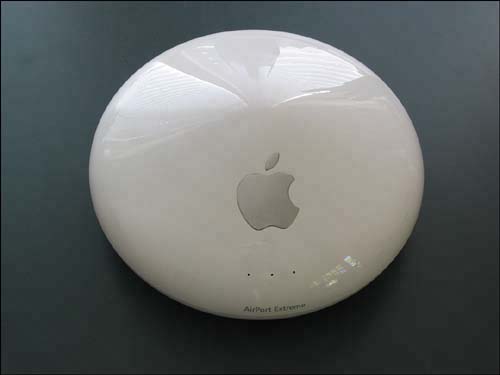 The Apple Extreme Base Station might look cute, but it also has quite a bit of brains and brawn behind that exterior. For one thing, it runs 802.11g, so it is fast. You can tell simply by looking at the sockets on the back of the unit that it delivers some nifty features. If you look at Figure 12.9, you'll see the sockets on the back of the Apple Extreme Base Station.
Figure 12.9. By looking at the sockets on the back of the AirPort Extreme Base Station, you can see that it provides extra functionality.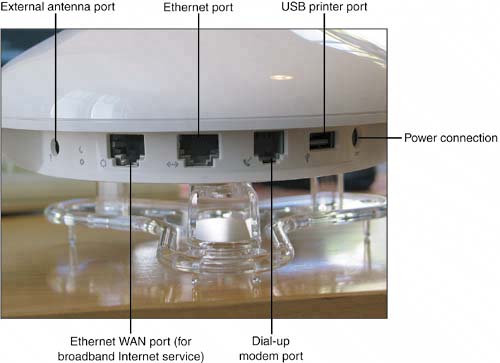 A couple of the sockets shown in Figure 12.9 bear some elaboration. The external antenna port and the connection for a dial-up modem are only available on the more expensive of the two AirPort Extreme models available. The Ethernet WAN (or wide area network) port is used to connect to a cable or DSL modem (or, in some cases, to a network connected to the Internet). The Ethernet port can be used to connect a wired network "behind" the AirPort Extreme Base Station. You can connect the port to a hub or switch, and then add quite a few wired devices. That way, you wouldn't need a separate router. The USB printer port provides a way to give all the wireless devices connected via the AirPort Extreme Base Station access to a printer with a USB port.
TIP
The AirPort Extreme Base Station provides a standard antenna connector, so you can add any antenna you'd like (and pay less than at an Apple company store). For more information about antennas, see Chapter 16, "Adding Wi-Fi Antennas to Your Network."
The AirPort Express Base Station
The AirPort Express is a small 802.11g access point with some unusual features. Figure 12.10 shows the AirPort Express and its connectors.
Figure 12.10. The AirPort Express Base Station combines a small size with some unusual features.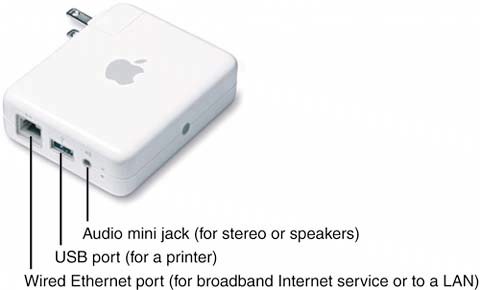 The feature of the AirPort Express that has received the most notice is that it can easily serve iTunes musical files through any stereo in your houseor simply through a set of speakers. You do have to connect the stereo to the AirPort Express (through the audio mini jack). This might require additional cables; you can buy a set from Apple for about $30. It also has a built-in USB port, so you can use wireless networking to share printers.
The AirPort Express can be used as a handy and convenient way to extend the range of a Wi-Fi network created using a larger access point (such as the AirPort Extreme Base Station).
TIP
You can also buy dedicated wireless media streamers, which use Wi-Fi to route music, video, and photos stored on a computer to your stereo or television; for example, the SMC EZ-Stream Wireless Multimedia Receiver runs over 802.11a, 802.11b, and 802.11g and sells for about $200.
It's convenient to travel with an AirPort Express unit. That way, if your hotel room is only equipped with an Ethernet Internet connection (and doesn't provide wireless), you can plug the AirPort Express in and use your mobile laptop from anywhere in the room without having to worry about wiring.
The only disadvantage of the unit is the single 10/100BASE-T wired Ethernet socket. This can be used to connect to the Internet or to a router or hub that is part of a wired network. But the AirPort Express can only do one or the other; so if you want to integrate it as part of a wired network, you will need additional hardware such as a router.
D-Link XTreme G Wireless Router
The D-Link XTreme G Wireless Router model, DI-624, is probably the most popular combination wire line router and 802.11g Wi-Fi access point. This model combines speed and features with a low price (about $50 from a discount retailer including rebates).
Figure 12.11 shows the status panel of the D-Link XTreme.
Figure 12.11. The indicator lights tell you which of the D-Link XTreme features are currently in use and working.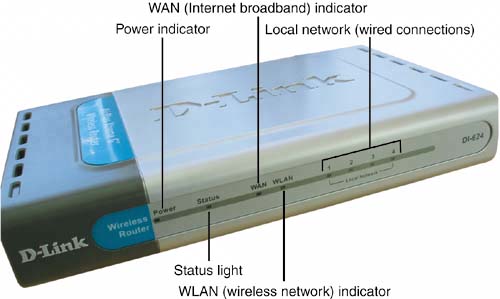 Note
You can buy dedicated wireless servers specially intended to share printers with a wireless network. These servers provide a USB port to connect to the printer. Models such as the Belkin Wireless Print Server sell for around $100.
It's worth having a look at Figure 12.11, which I've marked with the purpose of each of the indicator lights shown. Haven't you ever been curious about what all the lights on one of these units actually means? If you are trying to debug a Wi-Fi access point or a router, it's very helpful to know what they show you.
The power indicator means that the unit is connected to electrical current. If all is working properly, the status light should be blinking. The WAN (Internet connection) light blinks to indicate that it is working. The WLAN (wireless network) light blinks when Wi-Fi radio transmissions are being sent or received. Each of the local network lights are on solidly to mean that a wired connection has been made in the corresponding plug.
Figure 12.12 shows the connection sockets for the D-Link Xtreme unit.
Figure 12.12. The D-Link XTreme provides connections for wired Ethernet and to a broadband modem (as well as Wi-Fi capabilities).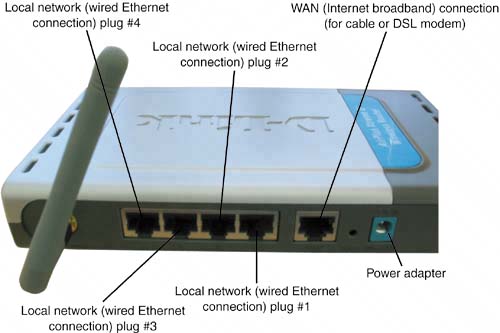 As you can see in Figure 12.12, the D-Link XTreme can be connected to a broadband modem, can broadcast wireless signals, and, at the same time, it can provide the ability to plug up to four wired computers using standard Ethernet. Of course, there's nothing to stop you from plugging hubs or switches in to the unit, easily expanding your network to more than four wired devices.