This process is also a breeze. All the device manufacturers offer their latest drivers in a downloadable form on their Web sites. Our only advice here is to always use the latest driver from a manufacturer's Web site, as opposed to the driver on the CD that came shipped with the device. Manufacturers are fastidious in supporting their devices, and the drivers that shipped with your device may already be outdated.
Unless you enjoy living on the edge, don't download a "beta" version of a driver that the company may be offering to the public on a trial basis. Instead, look for the formal releasethe one without the ominous "b" in its version number. Check the major discussion lists to see how people are faring with a new release in drivers. Most importantly, never change or install new drivers in the midst of an important project.
Every manufacturer's driver auto-installs when you double-click the application package that mounts after you download the driver.
Aurora's Pipe driver installer looks like just about everybody else's.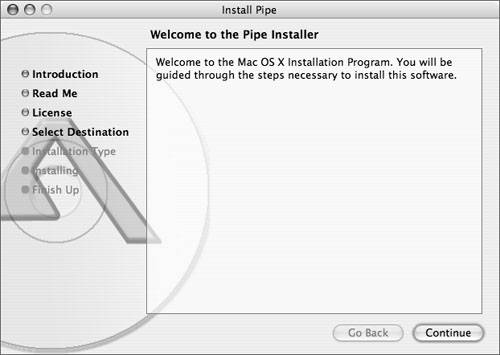 Although we can't show them all to you, rest assured that it's as simple as installing FCP software. Check with online FAQs and help pages if you have trouble during the download process.
Installing Keyspan Serial Drivers
If you installed the Keyspan twin serial adaptor, you'll want to install the drivers at this point and then test to see if the device is being recognized. Follow these steps:
1.

Download the latest Keyspan driver from Keyspan's Web site (www.keyspan.com).



2.

Double-click the installer and follow the installer prompts to install the driver.



3.

After installation is complete, restart your computer.



4.

When the computer restarts, launch your System Preferences and click the Network pane.

A window appears announcing the detection of some new ports. This is a good sign.



5.

Click OK.



6.

From the Show pop-up menu in the Network preference pane, choose Network Port Configurations.



7.

Uncheck your new ports in the list: USA28Xb1P1 and USA28Xb1P2.

This won't affect your use of this adaptor to control decks, but it will tell Mac OS X that you aren't interested in trying to network with these ports.



8.

Click Apply Now.



9.

Quit System Preferences.