98. About Upgrading Router Firmware and Adapter Drivers
BEFORE YOU BEGIN

SEE ALSO

About Configuring the Wireless Router

About Configuring the Wireless Adapter

About Updating an Adapter Driver

About Network Connection Problems
If you have ruled out most hardware and software issues when troubleshooting a WiFi network problem, you might want to explore the possibility of upgrading your WiFi router's firmware or a driver for a WiFi adapter. Your WiFi router works because of a set of basic operating instructions (software code) that is burned onto a rewritable chip on the device. This set of code is known as the router's firmware. The overall operability of the router is determined by this firmware, so having the ability to update the firmware can not only keep your router running properly, but it can also potentially increase the overall functionality of the router, particularly in cases where security protocols and other features have been upgraded for the router's firmware by the manufacturer.
Key Term
Firmware The basic operating system for a device such as a WiFi router.
It is incumbent on you to occasionally check the website of your WiFi router's manufacturer for firmware updates. Most WiFi routers (and other hardware such as adapters) have a registration card you should fill out and mail in, or you can register the device with the manufacturer online. Registering (including information such as a valid email address) can mean that you will get periodic emails related to any upgrade possibilities for the device, such as a new version of the firmware.
Most WiFi networking equipment manufacturers provide support and download pages for the various products they manufacture. This makes it easy for you to view the various versions of firmware available for a device. Locate the page for your WiFi router and download the firmware as needed.
Check the product page for your router to see whether any firmware upgrades are available.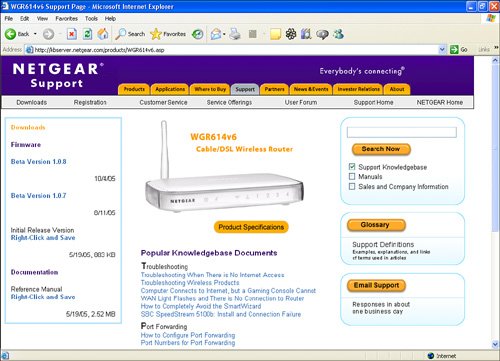 Note
Some manufacturers release beta firmware versions for their products. It is up to you whether or not you want to install beta firmware. It might be better to wait until a "final" version of a firmware upgrade is available before you upgrade the router. The label beta typically means that the software is not ready for prime-time, and you might make a router problem even worse if you use beta firmware.
After you have download the new firmware, use the downloaded file to upgrade the router. This process varies from router to router, but most routers have a configuration page that allows you to browse for the new firmware file and then upgrade the router. You should follow the specifics for upgrading your router provided in your router's documentation.
Upgrade the router firmware using the upgrade configuration page for your router.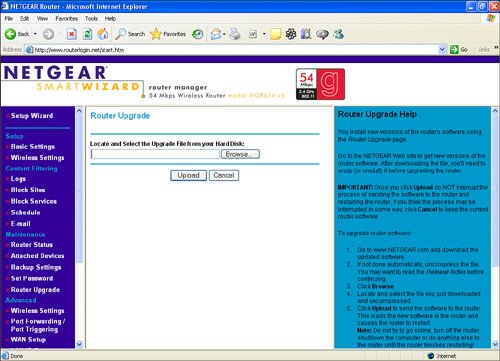 In terms of WiFi adapters (and any other hardware peripherals you add to your computer), it is important to keep the driver for the adapter up to date. Manufacturers upgrade drivers for devices such as WiFi adapters to resolve problems and issues that were experienced with the device and the driver that it shipped with.
You can download driver updates (and drivers for other versions of Windows if you are not running Windows XP) from the download page for your adapter. After the driver is downloaded, you can install the driver using the Device tab on the Properties dialog box for the WiFi adapter.
Check the download page for your WiFi adapter to see whether any driver upgrades are available.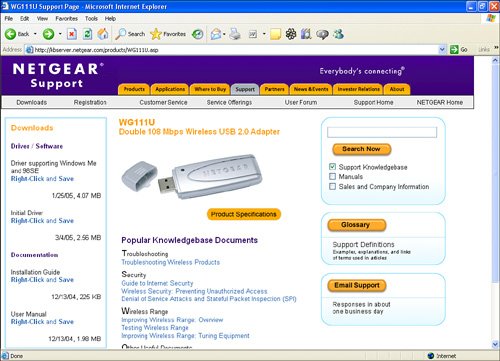 The properties for any device on your computer can be opened using the Windows XP Device Manager. See

About Updating an Adapter Driver for more information on updating the driver for a WiFi adapter.
Note
Updating a driver can actually make a device that is running properly malfunction. Remember that you can also roll back drivers to a previous version if a driver upgrade is causing problems. See

Install Adapter Software Utility and

About Updating an Adapter Driver for more about WiFi adapter drivers.
A final word related to firmware and driver upgrades: To a certain extent, you should follow the old adage, "if it isn't broken, don't fix it." If your WiFi router is functioning well and you aren't having any adapter problems, don't bother doing an upgrade to the router's firmware or adapter's driver just for sake of upgrading. Although upgrading a WiFi router can enhance security and operability, if you are happy with your security settings and the router's performance in terms of security, why risk making the router unstable by upgrading to new firmware, particularly beta firmware?