Nautilus provides the perfect visual utility for quickly browsing available folders and then opening a file that you need to work with. Double-clicking on a file opens the file in the applications used to create it.
Before You Begin
14 About File Commands
15 Use File Commands
46 Use Nautilus to Manage Folders

Open Computer Window
Double-click the Computer icon on the desktop. This opens Nautilus and provides access to your removable media drives, the file system, and the network.
Tip
If you are using best practices for file storage, you are storing your files in your home directory or subfolders within your home directory. The fastest way to get to your home directory is to double-click the Home directory icon on the desktop.

Open File System
To open the file system (the root and all its subfolders), double-click the FileSystem icon in the Nautilus window.
Tip
You can quickly switch from the standard Nautilus view to a browser mode that makes it easy for you to type a folder or file location into the Nautilus browser window. Right-click on any folder and select Browse Folder on the shortcut menu. The Browse view for Nautilus makes it easy to switch between the Icon and List views and zoom in and out on folder and file icons. You can make this the default view for Nautilus; select the Do Not Open a New Window for Each Folder check box on the Behavior tab.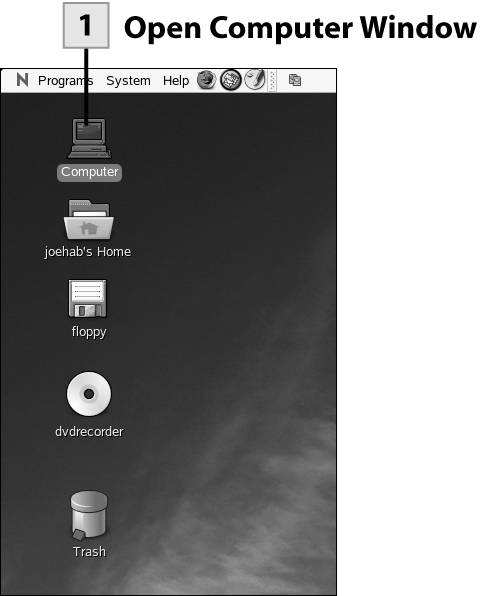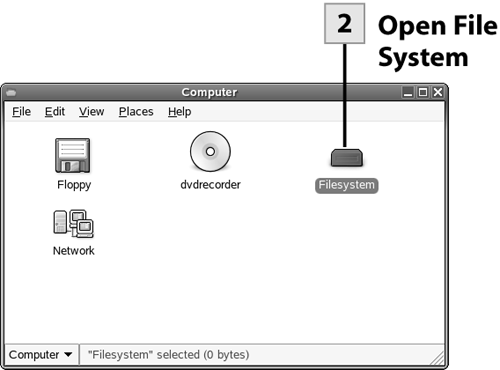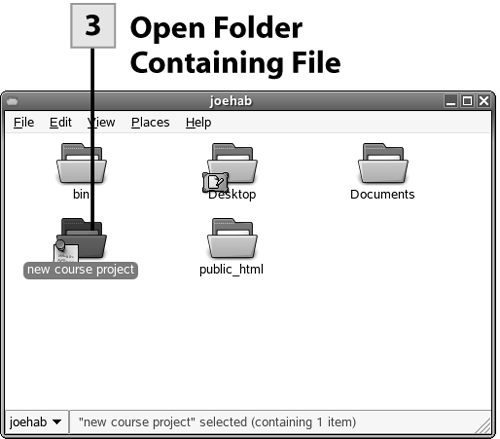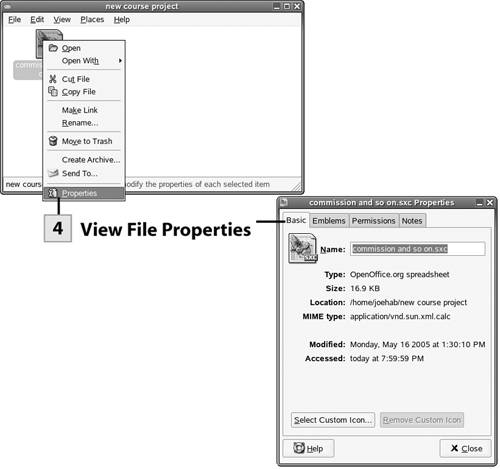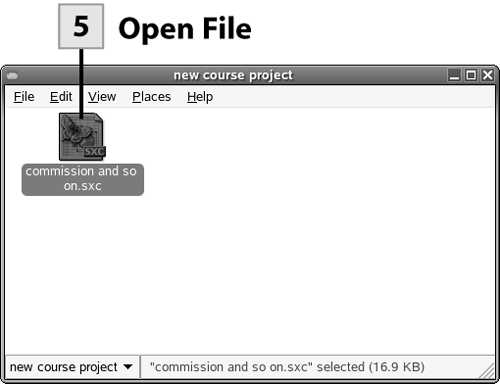 Open Folder Containing File
To open a particular folder, double-click that folder. Each time you open a folder, a new window opens for that folder.

View File Properties
To view the file properties, right-click on the file icon and select Properties from the shortcut menu. This opens the Properties dialog box for that particular file. On the Basic tab, the file size and when the file was last modified and accessed are provided. If you want to view permissions for the file, select the Permissions tab. After you have finished viewing the file properties, select Close.
Tip
You can attach emblems to your files by using the Emblems tab and enter comments for the file on the Notes tab. If you want to select a custom icon for the file, select the Select Custom Icon button. The Select an Icon dialog box appears. Select a new icon and then click OK.

Open File
You can quickly open the file in the application that it was created in. Double-click on the file, and the application window opens. You can now edit and then save any changes that you have made to the file. After you have finished working in the application, close its window, and you are returned to the Nautilus window containing the file icon.