Novell Evolution is a perfect example of a groupware client. It is designed to allow groups of users to communicate and collaborate. Groupware products such as Novell Evolution provide email, help enable group scheduling, and give access to local and global contacts.
Evolution can serve as the email client and calendar and contact manager on a number of different network communication platforms such as SUSE Linux communication servers, Novell GroupWise servers, and Microsoft Exchange communication servers. The type of server environment isn't really all that important to Evolution users because the email features and other features such as the calendar and contacts work seamlessly no matter the network platform.
Note
Evolution can be synchronized with Palm handheld devices allowing you to take your Evolution contacts and calendar on the road.
The real concerns of the end-user are related to how Evolution allows you to juggle emails, contacts, and appointments and still stay organized. Evolution is installed during the NLD installation process. When you open Evolution, you are provided with an environment that makes it easy for you to access mail, contacts, and a number of other tools.
Note
The first time that you start Evolution you are walked through the process of adding an email account to the Evolution configuration (if an email account has not been preconfigured for you by your system administrator).
The Evolution window is divided into three main areas. At the top of the window are the Menu bar and the toolbar. The toolbar actually provides tools specific to the folder that you are currently using; so the buttons available on the toolbar when you are working with mail are different from those provided when you work with your contacts.
Note
A Search bar is provided below the toolbar, making it easy to quickly search for items in the currently selected folder.
On the left side of the Evolution window is the Folder list. The Folder list allows you to quickly access the various Evolution folders. There is a Shortcut bar at the bottom of the Folder list. The shortcuts provided on the bar make it easy for you to access specific Evolution features such as mail, contacts, and the calendar.
On the right side of the Evolution window is a list pane that shows a list of your emails, contacts, or appointments (depending on whether you have Mail, Contacts, or Calendars selected). A preview pane is also provided that allows you to preview the email currently selected in the list.
Evolution provides an easy-to-navigate interface for managing emails, contacts, and your calendar.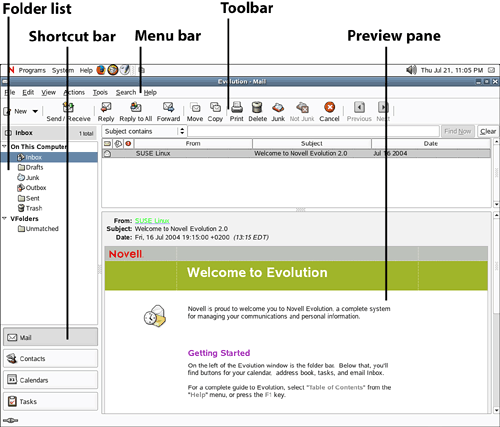 If you used a previous email, contacts, and calendar manager, you will find that Evolution provides tools that you can use to import information saved in other groupware applications and email clients. So, you can hit the ground running in terms of responding to email and managing your contacts and calendar.