The existence of the Internet is at the heart of many of the most exciting Linux applications. This section looks at the Linux Internet- related applications.
The default installation of Fedora includes a number of applications contained in the Graphical Internet package. All these applications have a graphical user interface (GUI) to make the user s life easier. The package group contains some 14 applications (of which 8 are installed by default). This section concentrates on just two of them:
The Mozilla application: A Web browser that provides similar functionality to the Netscape Navigator or Microsoft Internet Explorer browsers. Mozilla is a fully functional Web browser, and also supports extensions to add further functionality (such as mail).

The Gaim client: An Instant Messaging client similar to Microsoft Instant Messenger and capable of interfacing with a number of messaging protocols (such as AIM, ICQ, Yahoo!, MSN, IRC, and others) used by various messaging clients .
We ll take a look at these applications in more detail, and discuss their history and interoperability features, leaving you in a position to further explore at your leisure.
The Mozilla Web Browser
The Netscape browser s core source code, known as Mozilla , was released to the public under the Netscape Public License (NPL) in 1998. The Mozilla project (a group set up to continue Netscape Communicator as an open source application) used this code as the basis for its own commercial-level browser. The current version of Mozilla, version 1.6, is released under the NPL license for modifications of the core Mozilla code and the Mozilla Public License (MPL) for any new additions.
The Mozilla Web browser is the primary browser for Fedora plus other distributions, and is an X Window system application that provides a very similar look and feel to the Netscape Navigator and Internet Explorer applications. To take a look, fire it up now by clicking the Web Browser icon on the bottom left of your desktop ( next to the Main Menu button), or by selecting Main Menu>Internet>Mozilla Web Browser (see Figure 4-17).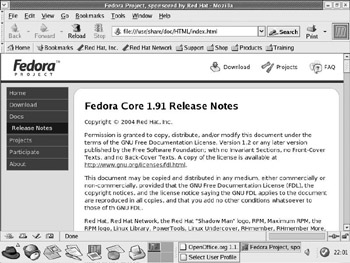 Figure 4-17
The layout of the application is likely familiar to you. The menu bar contains all the familiar menus , and the navigation toolbar allows you to type in a URL, move backward and forward between recently visited pages, reload a page, and stop a page from loading. The preceding figure also shows a personal toolbar folder , which contains shortcuts to your favorite Web sites. You can control the shortcuts on your personal toolbar folder by using the Manage Bookmarks option (which you ll find under the Bookmarks menu; see Figure 4-18).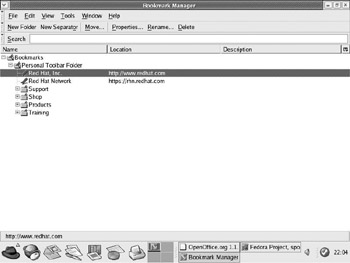 Figure 4-18
The features provided by Mozilla (and the look-and-feel of those features) will be familiar if you ve used Internet Explorer, and more so if you ve used Netscape Navigator (because Mozilla and Navigator are derived from the same original source code).
The Mozilla Mail Client
In addition to its core functionality as a Web browser, you can extend the Mozilla base feature set by installing additional functionality (plug-ins), such as the Mozilla-based mail client . In fact, the mail client plug-in is installed as a default extension to Mozilla.
The mail client is accessible from the Mozilla application by selecting the Window>Mail & Newsgroups option from the menu bar. When you first use this, you ll be prompted to create a default account using the information provided by your Internet Services Provider (ISP) or network administrator. When you ve successfully entered that information, the main application will start with the screen shown in Figure 4-19.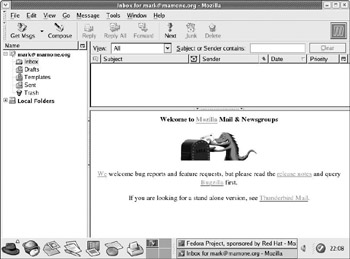 Figure 4-19
This has very similar functionality to that of Microsoft Outlook Express "providing folders for your e-mail and for any newsgroups that you re subscribed to. By default, Mozilla includes support for Internet Security Standards such as Secure Sockets Layer (SSL), which provides encryption of information over the Internet.
Let s have a look at some of the specific interoperability features within Mozilla mail.
Importing from Other Clients
If you have been using another mail client, such as Netscape Communicator, Microsoft Outlook, or Microsoft Outlook Express, you can import your mail messages into Mozilla mail by using the features provided from the Tools>Import menu option..
These features will guide you through the process of importing mail settings and messages, or an address book from another mail client "you simply select the appropriate option and follow the wizard.
You can also export an address book to a variety of formats (including Outlook and Outlook Express). To do this, select Window>Address Book and then the address book you want to export, and then click the Tools>Export menu option.
The Gaim Instant Messenger Application
So you can browse the Internet and correspond using e-mail. What about chatting? This technology has suffered from the number of different protocols used by different organizations for transmitting information. However, in true Linux tradition, Gaim is flexible enough to cope with this and offers an elegant solution.
Gaim is a utility for supporting online chats; it s similar to the AOL Instant Messenger or Microsoft Messenger application. It provides a single front-end for multiple protocols (including Napster, MSN, ICQ, IRC, and Yahoo!), and so can interoperate with other Instant Messenger applications.
The first thing to do (if you haven t already) is create an account with an Internet messaging service (there are plenty around "MSN and Yahoo! are just two examples). Then, start Gaim (by selecting Main Menu>Internet>Instant Messenger or type gaim at the command line). Gaim is shown in Figure 4-20.
By default, a number of protocols are installed:
AIM/ICQ

Gadu-Gadu

IRC

Jabber

MSN

Napster

TOC

Yahoo

Zephyr


Figure 4-20
It s possible that your messaging service uses a different protocol, or you may wish to add additional functionality, such as Notifications, that is not supported by default. Fear not "Gaim is extensible and can support more protocols and additional functionality via plug-ins. To install the protocol support you need, click the Preferences button and use the Plugins option to select the functionality required (see Figure 4-21).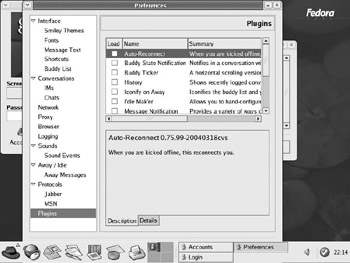 Figure 4-21
When you ve done that, you can tell Gaim about your account. Do so by clicking the Accounts button and supplying the information about your account and the protocol used.
Then, you can sign in and start chatting, as shown in Figure 4-22.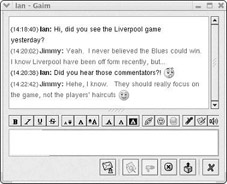 Figure 4-22
You can find the latest updates, documentation, and additional plug-ins to extend the functionality of Gaim at its Web site at http://gaim. sourceforge .net .