These programs offer archiving (and, in some cases, synchronization) features and scheduled backups, but they cannot make bootable duplicates. Table 4, "Archiving Software Feature Comparison," provides more detail about each application.
Table 4. Archiving Software Feature Comparison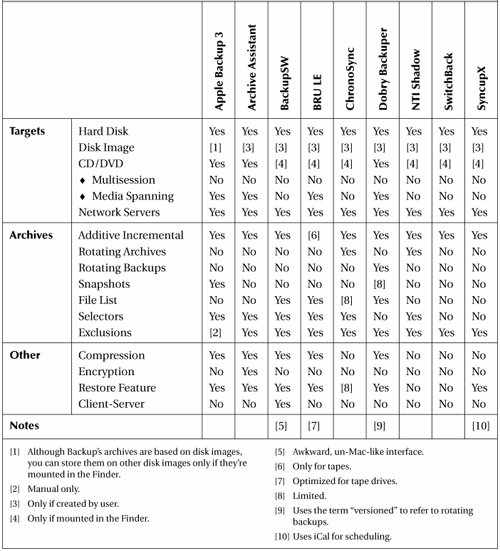 Apple Backup 3.1 (www.mac.com; free with $100 .Mac subscription)
Archive Assistant, part of StuffIt Deluxe 10.0 (www.stuffit.com; $80)
BackupSW 3.4 (visualversion.com/backupsw/; $9)
BRU LE 1.2 (www.bru.com/products/macosx/le/; $129)
ChronoSync[2] 3.3 (www.econtechnologies.com; $30)
[2] Can be coaxed into making duplicates, but the publisher discourages this usage.
Dobry Backuper 1.5 (dobrysoft.com; $30)
NTI Shadow[3] 3 (www.ntius.com; $30)
[3] In addition to manual and scheduled backups, NTI Shadow can add files to an archive every single time they're saved.
SwitchBack 3.9 (www.glendower.co.nz; $30)
SyncupX 1.6 (http://freeridecoding.net/syncupx/; $20)