The Naval Sea Systems Command
NAVSEA—the Naval Sea Systems Command—is hierarchically linked to the Executive Branch of the United States Government through the Department of Defense, Navy Department. NAVSEA manages 139 Acquisition Programs assigned to the Command's seven affiliated Program Executive Offices (PEOs) and various Headquarters elements. The Naval Sea Systems Command is the Navy Department's central activity for designing, engineering, integrating, building and procuring U.S. Naval ships and shipboard weapons and combat systems. The Command's responsibilities also include the maintenance, repair, modernization and conversion of in-service ships, their weapons and combat systems. Additionally, NAVSEA provides technical, industrial and logistical support for naval ships and ensures the proper design and development of the total ship, including contractor-furnished shipboard systems.
NAVSEA is the largest of the five Navy Systems Commands. Its FY00 budget of approximately $14 billion accounts for approximately 16.5 percent of the Navy's total $84.9 billion FY00 budget. This budget places NAVSEA among the nation's top business enterprises when comparing the value of assets, number of employees and budget using Fortune Magazine criteria. While NAVSEA has approximately 900 officers and 1,300 enlisted personnel, the vast majority of its employees are civilians. The Command's FY99 civilian end-strength—45,821 employees in seven PEOs—manages a number of major acquisition programs for the Assistant Secretary of the Navy for Research, Development and Acquisition, ASN (RD&A). NAVSEA's major resources include its highly specialized professional employees and facilities. Whenever possible, NAVSEA relies on the private sector (defense contractors, Ang & Slaughter, 2001) for a wide range of products and support services including ship design and engineering, production of ships, weapons and other complex technological systems. NAVSEA manages these programs through an organizational structure including Program Management Offices (PMOs).
This case study focuses on the limited attention given to human factors in the implementation of an MIS within a Program Management Office (PMO GOV). PMO GOV is tasked with weapons systems development for sea warfare. A defense contracting organization—Prime Contractor (PC)—designed, developed, tested and implemented the management information system. This Integrated Product and Process Management Information System (IPPMIS) was developed under a U.S. Government contract ending in the late 1990s. Additional perspective on the Defense acquisition community and the Defense Acquisition policy are located in the appendix.
This case study is organized into eight major sections: background, setting the stage, case description, current challenges and problems, references, appendix, glossary of terms, and further readings.
History of the MIS Case
A defense contractor was solicited through the normal government Request For Proposal (RFP) process. The PMO, through a U.S. Government contracting agency initiated an RFP, seeking assistance with the development of an integrated weapons systems MIS to manage all stages of procurement from concept generation to deployment and follow-on support. After a routine bid cycle, the contract was awarded to Prime Contractor and the MIS development process was undertaken.
The Management Information System was initially expected to track, monitor and manage: (1) acquisition logistics; (2) configuration and data management; (3) personnel training and education; (4) integrated product and process development including systems prototyping; (5) manufacturing and production; (6) quality assurance; (7) reliability and maintainability; (8) risk management; (9) systems engineering; (10) software engineering; and, (11) test and evaluation, through an integrated software program. These major system elements were divided into a three-stage linear program: (1) pre-systems acquisition; (2) systems acquisition, including engineering, manufacturing, demonstration and production; and (3) finally sustainment. Concept development included requirements planning and needs assessment by end users (who in this case included operating forces of the United States Navy).
One part of the MIS was the requirement to monitor the development of career acquisition professionals within specific warfare and functional sub-specializations. The component of the MIS that managed career development was titled—IDP or Individual Development Plans. The exploration of the IDP module is used in this case to illustrate systems deficiencies.
Type of Business
The two 'players' include: PMO GOV and Prime Contractor. PMO GOV is a United States Government organizational group of the Executive Branch, Department of Defense, Navy Department. NAVSEA manages the development and deployment of specific weapons systems through a complex organizational structure. Figure 1 depicts the line of authority between the Secretary of the Navy and the Project Management Office's (PMO) functional lines. Prime Contractor specialized in software and hardware development and deployment. Prime Contractor provided project management support to assist in management of weapons systems development. The reporting relationships between Prime Contractor and PMO GOV are also depicted in Figure 1 below.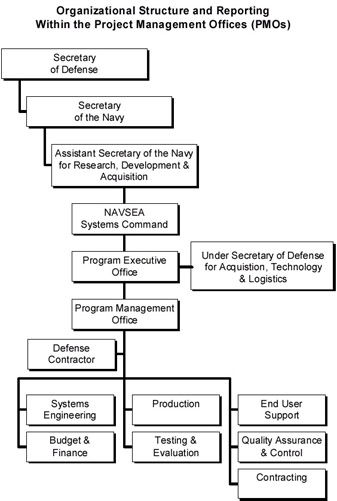 Figure 1: Organizational Chart of the Office of the Secretary of the Navy to the Program Management Office Functional Lines
Products and Services Offered
PMO GOV delivers both products and services. Products include integrated hardware and software weapons systems. Services include the management of the acquisition and technical operation of weapons systems research and development, deployment and follow-up support, to the operating forces of the U.S. Navy.
Prime Contractor develops, tests and deploys the MIS under review. Additionally, Prime Contractor provides project management and administrative support. Administrative support comes in the form of collaborative managerial assistance to PMO staff personnel for functional tasks and duties.
Management Structure
The PMO functions through a top-down management structure following the policies and procedures set forth within the Department of Defense and the Office of Personnel Management. The PMO reports to a Program Executive Officer, who further reports to an Assistant Secretary of the Navy. The Assistant Secretary of the Navy for Research, Development and Acquisition is functionally responsible to the Under Secretary of Defense for Acquisition, Technology, and Logistics.
Financial Status
PMO funding is provided through a five-tiered distribution process. Initially, funding requests are made through the Congressional budget allocation. Monies are then transferred through the Department of Defense Under Secretary for Acquisition, Technology, and Logistics, further distributed through the System Commands to the Program Executive Offices and finally to the specific Program Management Office. Projects are then developed to use the Congressional budget allocation in accordance with the U.S. Government's budget and execution processes and cycle. Financial resources are then segmented into operational resources needed to conduct the mission of the organization, and personnel resources including salary and benefits. PMO funding is provided by the U.S. Congress, under the annual federal budget Planning, Organization and Management process to the Department of Defense. Budget decisions are made by the U.S. Congress.
Overall funding levels for Defense Prime Contractor over the first five-year contract period, 1992–1996, are provided in Table 1. All financial data are approximate. Project funding levels provided to Prime Contractor over the contract period were $10.4 million.
Table 1:

Apportioned Funding Levels for Prime Contractor Over the Contract Life

| | | | | |
| --- | --- | --- | --- | --- |
| 1992 | 1993 | 1994 | 1995 | 1996 |
| $1.5 Million | $2.8 Million | $3.1 Million | $2.5 Million | $0.5 Million |
Overall PMO budget allocation included administrative support of the PMO provided under contract by Defense Prime Contractor. Software development for program management, including the MIS development project, is included in the support contract. Funding allocation for the MIS development sub-task of this cost-plus-fixed-fee contract is shown in Table 2.
Table 2:

Apportioned Funding for the MIS Development Project

| | | | | |
| --- | --- | --- | --- | --- |
| 1992 | 1993 | 1994 | 1995 | 1996 |
| $380,000 | $550,000 | $950,000 | $350,000 | $70,000 |
In order to afford sufficient numbers of technologically up-to-date systems, cost is a critical component of DoD system optimization. Cost should not simply be an outcome as has often been the case in the past. Thus, cost should become an independent rather than dependent variable in meeting the user's needs.
Strategic Planning
The PMO's strategic planning includes the assessment of operational forces needs. Weapons systems development includes a planning process that looks at current defense requirements, future scenario planning and the integration of new technologies. Needs assessment is done in partnership with the operating forces based on expected operations. Strategic planning for weapons systems development is frequently based in new technological advances in engineering and the applied sciences.
In this case, a strategic initiative to develop and deploy the Integrated Product and Process Management Information System (IPPMIS) for the PMO was undertaken due to rapidly developing technology and the need to improve the management of overall resources.
Organizational Culture
The weapons systems acquisition community is a homogenous professional group of individuals with different specializations (financial; quality control; engineering; manufacturing/production; project management; testing; and, general management) all focused on the procurement of offensive and defensive weapons systems. Most personnel are college educated with supplemental professional training and many of the senior individuals within the organization have graduate degrees. Since the organization supports the development of technology, the organizational culture tends toward early adoption and acceptance of new technological systems. Many of the personnel staffing Program Management Offices are senior government officials, immediately below Senior Executive Service (SES) levels.
Economic Climate
This case occurred during the mid-1990s when defense spending was under a constant state of stress from Congressional initiatives to reduce military spending. Excessive defense spending was a concern to the Congressional defense oversight committees during the period of this systems development. The political climate valued defense spending cuts particularly within Research and Development (R&D), as a function of an ever-decreasing public perception of threats to national security. Although defense cuts were encouraged, spending tax dollars on this IPPMIS was expected to eventually save resources. The overall economic climate was directed toward spending minimization on all defense related projects. This environment produced constant financial pressure.