Toolbars are the most common way for users of any application to access the commands they use most often. They can be hidden or shown as needed, and can even be customized to show your own mix of buttons . This way, you can make sure that they show the commands that you use most in Project 2003.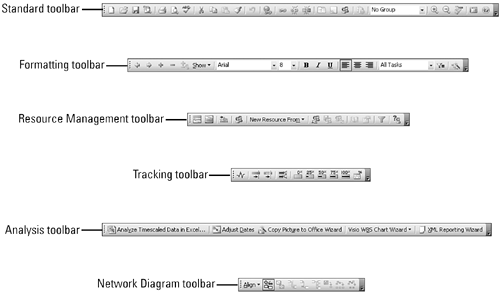 Standard " This toolbar holds the most common commands for creating, saving, and opening projects. It also features commands for copying, cutting and pasting data, linking tasks , editing notes, and assigning resources, in addition to editing the timescale on Gantt Chart or other timescaled views. This toolbar is shown by default, and is the most common toolbar, as it contains the most commonly used commands for the whole application.

Formatting " This toolbar allows for the editing of text, as well as of task outline levels and filters. This toolbar is shown by default, but is often hidden except when editing text to save onscreen space.

Resource Management " This toolbar is one you will want to have visible when you are working with resource loading and when trying to resolve resource overallocations. It provides quick access to several views that are useful for dealing with resource leveling and allocation.

Tracking " Use this toolbar when updating the status of your tasks. It provides fast access to commands for updating tasks, as well as commands that will help visualize the status of your project.

Analysis " This oddly named toolbar contains links to utilities that are very useful, although only one is really for doing analysis. From this toolbar you can export timescaled data to Excel for doing charting and further analysis. It also provides access to the Copy Picture to Office Wizard, as well as the Visio WBS Chart Wizard and the XML Reporting Wizard. This toolbar is generally only used when these utilities are needed.

Network Diagram " This toolbar, as you can tell from the name , is only used when in the Network Diagram view. It provides users with quick access to commands for formatting and manipulating network diagram elements.