4.6. I Need a Screenshot
When you just need to document what's happening, a picture is worth a thousand words. To create that picture, many Microsoft Windows users run Corel's Paint Shop Pro and Adobe's Photoshop. These programs support extensive graphics capabilities and allow you to take screenshots of your desktop.
There are several Linux applications that can help you get that screenshot you need. I'll explore a few of them here. More importantly, these Linux applications can meet any other graphics needs of those who rely on Microsoft-based graphics programs.
Perhaps movie studios have the most intensive needs for quality graphics. According to http://linuxmovies.org, Linux has become the operating system of choice for Fox, Disney, DreamWorks, Universal, and others. While some of these studios have shown antagonism toward open source licenses in the past, our information suggests that they recognize the superiority of graphics applications on Linux.
If Linux graphics applications are not good enough for you or your users (or if your users are just dependent on Windows-based applications), CrossOver Office supports the installation of Adobe Photoshop. The procedure is as simple as those described previously in this chapter with respect to the installation of Quicken and Microsoft Word.
| | |
| --- | --- |
| | If you're creating instructions for your users, you'll be interested in the screenshot capabilities of many of these programs. The screenshots you can create can help you provide more effective directions. |
4.6.1. The GIMP
Perhaps the most commonly used graphics-manipulation program on Linux is the GIMP, also known as the GNU Image Manipulation Program (http://www.gimp.org). As described on its web site, you can use it for such tasks as photo retouching, image composition, and image authoring.
The GIMP is also commonly used for screenshots. It is what I've used to capture the figures that you see in this book. Taking screenshots is an excellent way to illustrate the steps your users can take to do their work, easing their transition to Linux.
If you want to take a screenshot, choose File
Acquire
Screenshot from the GIMP menu. In the Screen Shot window that opens, you can select a single window or the whole screen. If you want to depict a menu that requires a mouse click, use the Grab After _ _ Seconds Delay option. This allows you to open the menu options you want to depict before the screenshot is taken.
4.6.2. Eye of GNOME
If you just need a graphics viewer on the GNOME desktop, all you need is the Eye of GNOME and the Nautilus file browser. For example, after you open Nautilus in a screen similar to Figure 4-4, just double-click on the desired image to open it in the Eye of GNOME. As you can see, image thumbnails in Nautilus help you identify the image that you need.
Figure 4-4. Nautilus displays image thumbnails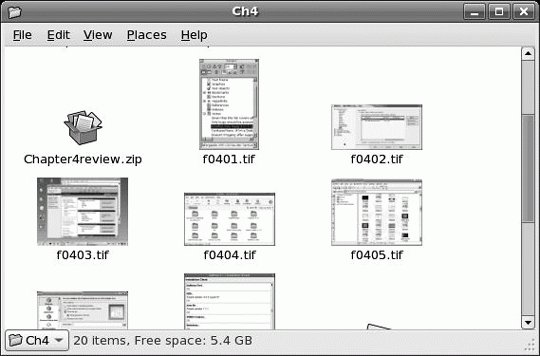 4.6.3. GNOME Panel Screenshot
If you just need a screenshot without complications on the GNOME Desktop, click Desktop

Take Screenshot. (On older versions of GNOME, click Actions
Take Screenshot.) This activates the GNOME Panel screenshot utility. On Red Hat/Fedora and Debian distributions, its part of the gnome-panel package. On SUSE Linux, it's part of the gnome-utils package.
From the command line, this utility is surprisingly versatile. For example, if you want a screenshot of a specific window, take the following steps:
Open a command-line console, or a command window with Alt-F2.

Enter the gnome-panel-screenshot --window --delay=5 command. You'll have five seconds to perform step 3; if you need more time, change the --delay switch as needed.

Open the desired window, and hover the mouse pointer over that window.

In the Save Screenshot window that opens, specify a filename for the screenshot that you want to save. While the default format is .png, other formats are possible, including .gif and .tif. Just save the screenshot in the desired file format.
4.6.4. KDE Viewers
The K Desktop Environment includes a number of viewers, integrated with the Konqueror file browser. To see how this works, open Konqueror on your K Desktop Environment. On our preferred distributions, click the K menu
Home. This opens Konqueror, displaying the files in your home directory.
Assuming you have graphics files in your home directory, you'll be able to view thumbnails by default in Konqueror without any additional configuration. In Figure 4-5, I show a view of some of my graphics files in my ~/lageeks subdirectory.
Figure 4-5. Viewing graphical thumbnails in Konqueror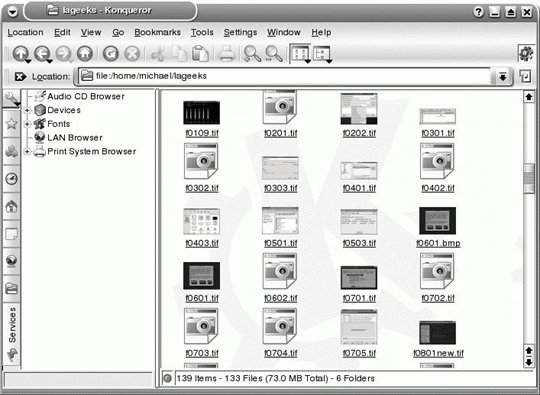 Double-click the graphical file of your choice, and the graphic will be shown full size in Konqueror. You can also open the graphic in another viewer. Under the Konqueror Location menu, you can open the graphic in KView, the Eye of GNOME, or the GIMP (assuming these graphical viewers are installed). Just right-click on the item and select the Open With option to make your choice.
4.6.5. KDE Snapshot
If you need a simple graphical screenshot program on the KDE desktop, install the KSnapshot program. On Fedora/Red Hat Enterprise Linux, it's part of the kdegraphics RPM. On SUSE Linux, it's part of the kdegraphics3 RPM. On Debian Linux, it's part of the ksnapshot DEB package.
The menu steps required to start the KDE Snapshot program vary by distribution. The one way to start it on all distributions is to open a command line in the GUI, or a command window with the Alt-F2 command, and then type in ksnapshot.
The KDE Snapshot program starts by taking a snapshot of your desktop. You can take a snapshot of an individual window, with a delay, by using the following instructions. In these steps, I'll take a screenshot of a command-line interface in the GUI:
Open a command-line window on the KDE desktop. On SUSE Linux, you can do so by clicking the K menu System Terminal Konsole; on Red Hat/Fedora, click the K menu System Tools Terminal; and on Debian, click K Menu System Terminal.

Scrollbar Hide; then select Settings Tab Bar Hide; and finally, select Settings Hide Menubar.

On a GUI desktop, open a command line with the Alt-F2 command.

Enter the ksnapshot command in the text box.

Under the Capture Mode text box, scroll to Window Under Cursor. Select an appropriate snapshot delay; you'll have this amount of time to perform step 7.

If you don't want the window frame, deselect the "Include window decorations" option.

Click New Snapshot, and open the window that you want in your image. Make sure to hover the cursor over this window before the snapshot delay has expired.

Save the snapshot. You may already be able to see how the snapshot resembles a command-line console, without the GUI. Even better, the screenshot includes black text on a white background, which is easier to read.