The features weve seen throughout this section are also available through the List toolbar. You can display the toolbar by choosing View

Toolbars

List . Figure 6-41 shows the toolbar.

Figure 6-41:

The List toolbar
The toolbar contains a number of useful features for working with XML documents. Ive summarized the relevant icons in Table 6-1 as follows .
Table 6-1:

Buttons used for working with XML data in the List toolbar


| Button | Explanation |
| --- | --- |
| | Includes features for working with lists of data. See Figure 6-42 for the full range of options with this button. |
| | Displays and hides the totals row. |
| | Reloads the external XML document to refresh data. You need to do this because when you change an external XML document, it is not automatically updated within Excel. The process is covered earlier in this chapter. |
| | Imports XML data. |
| | Exports XML data. |
| | Allows you to work with the properties of the current XML map. |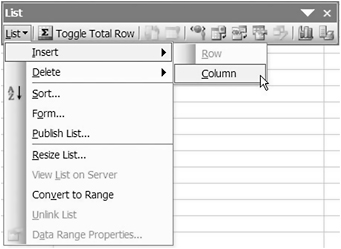 Figure 6-42:

Options in the List drop-down box
In the List drop-down box, you can find features for working with the list such as sorting and changing the list structure. Figure 6-42 shows the options in the drop-down List menu.
Youve seen how to work with XML data in Excel. Now its time to put together what youve learned so that you generate XML documents for use within Flash.