After loading and/or applying PTFs, you can display them. The Display PTF (DSPPTF) command, in its simplest form, gives you a list of all PTFs currently on your system and their status:
      DSPPTF 
You should see a panel similar to that shown in Figure 35.1.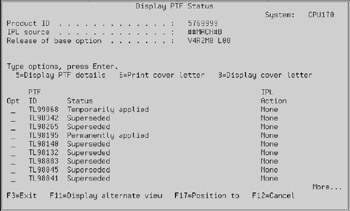 Figure 35.1: Displaying PTF status.
The status shown can be applied temporarily, applied permanently, loaded, or superseded. From the panel presented, you can select option 5 to display the contents of an individual PTF. This additional information is brief (and sometimes confusing), but it can be helpful.
The DSPPTF command accepts several parameters to narrow down the list of PTFs it is to display. For example, you can enter the licensed program number (such as 5738SS1 for i5/OS or 5738RG1 for RPG/400) in the LICPGM parameter. You can so request that the list go to the printer or to an outfile using the OUTPUT parameter.