Have you ever animated a scale from say 100 percent to 0 percent and have it look a bit off when you preview the animation? The human eye will pick up that the object appears to scale more quickly at the end of the scale. Mathematically it's taking the same amount of time to scale from 100 percent to 50 percent as it is to scale from 50 percent to 0 percent. Perceptually though, your eyes see more change occurring in the last half of the scale.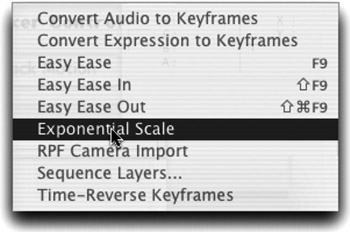 If you are using the Pro version of After Effects, take advantage of the Exponential Scale keyframe assistant.
To fix this shift click on your two scale keyframes to select them.

Go to Animation>Keyframe Assistant> Exponential Scale. This assistant will take a while to generate the new keyframes. This keyframe assistant speeds up the time spent on small degrees of change and elongates the time where more change is occurring creating an exponential curve.
It's a logarithm!