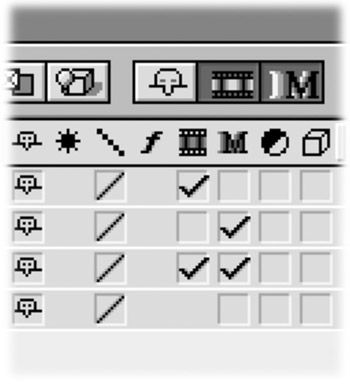 Many people are attracted to Frame Blending and Motion Blur. While its true that these settings can generate smoother motion quality, they only do so in specific situations.
Enable motion blur on a layer if you are animating its position, rotation, scale, or anchor point greatly. This will add realistic blur as the object changes speed. Applying motion blur to slow moving, or static objects has no visible effect (except on your render times). Also, motion blur has no impact for most effects if the motion is created within an effect (such as the Offset or Basic 3D effect). Notably, the Particle Playground effect however is affected by Motion Blur.

Enable frame blending only if you have changed the speed of a clip. It is most helpful on clips that have been slowed down. However there are some benefits on sped up clips as well. The point here is that frame blending is useless unless there is a speed change in the clip.